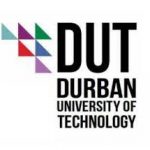 Website Durban University of Technology (DUT)
The Durban University of Technology is a multi-campus university situated in KwaZulu-Natal, South Africa.
Chief Protection Officer Job Vacancy at Durban University of Technology (DUT)
Applications are invited from interested person(s) for the under mentioned post.
Advert is open to external candidates.
Durban University of Technology (DUT) is located on the warm east coast of South Africa in the province of KwaZulu-Natal (KZN). It sprawls over seven (7) campuses that cater for about 32 000 students. Two of these are located in spectacular KZN Midlands, well-known for its undulating hills, which unfurl coastwards from the Drakensburg Mountains nearby. Five of these are located in tropical and picturesque Durban, which sits ensconced beside the 'Valley of a Thousand Hills' as it tapers off into the Indian ocean.
ENVISION2030, our strategy, identifies DUT's DNA as having two strands, namely 'people-centred and engaged' and 'innovative and entrepreneurial'. These are interwoven intrinsically by several double-pairs consisting of 'values and principles' that bind our Double-Helix together. The extrinsic expression of our DNA is via The DUT Way, which irradiates our collective thought and mind, heart and soul, character and behaviour.
The University's goal is to 'contribute towards improving the lives and livelihoods of all its people in the broader society'. DUT strives consistently towards excellence and greatness in the teaching-learning and in the research-innovation nexus; something that has been recognized recently both nationally and internationally. These internationally recognised strengths are enacted through our impactful engagement internally and externally in service of our localities, the region and the country at large.
DUT is: 'Creative. Distinctive. Impactful'
Chief Protection Officer
The overall objective is to maintain a high level of security at all times to our Executive Manager, and ensure the overall security posture remains at its highest level.
Chief Protection Officer Job Vacancy at Durban University of Technology (DUT)
Required Qualifications:
– Minimum 5 years' experience in a similar role.
–  PSIRA Grade B (Minimum).
–  Experience and proficiency in the use of close protection weapons.
–  Possession of own fire arm an added advantage.
– Valid Driver's licence – Minimum 2 years.
– Advanced driving licence (Preferred).
– Tactical background (preferred)
– Flexibility and commitment and ability to work well under pressure.
Personal Attributes:
– Clear criminal record essential.
– Police Clearance.
– Well presented & well spoken.
– Good physical and mental health.
Main Duties:
• Ensuring the safety and protection for our Executive Manager.
• Assessing security measures and providing discreet surveillance to minimize threats.
• Remains within the proximity of the Executive Manager at all times and implements mitigating measures to preserve his security and safety.
• Ensuring that the vehicles that are in use, are properly maintained.
• Using physical intervention when necessary.
• Escalate emergency situations to law enforcement as needed.
• Reporting, detection of suspicious activities, people and vehicles and provide regular reports to management
• Perform other duties as assigned by the Executive Manager.
• Responding to medical emergencies.
Salary : Market Related
Status of Position : Contract
Applications should include:
– A fully completed prescribed application form which can be obtained from www.dut.ac.za (under the QUICK LINKS tab – @careers)
– A detailed curriculum vita (explicitly stating experience or knowledge in the above mentioned fields)
– Covering letter.
– Certified copies of certificates
– Current contact information of referees
Please email application to MsomiM@dut.ac.za and quote the post reference and post description in the subject line.
CLOSING DATE: 18 NOVEMBER 2022
Please note:
"The University reserves the right not to appoint" or to re-advertise to widen the pool of applicants
Verification will be conducted on preferred candidates only.
DUT reserves the right to do a complete verification of the information you have provided.
DUT reserves the right to contact your referees or request additional referees.
While DUT strives for equal opportunities, preference will be given in terms of the University's Equity
Plan, with specific consideration for Female candidates.
Download Application for Employment Form Here
"While DUT strives for equal opportunities, preference will be given to suitable candidates in terms of the
University's equity policy" The University reserves the right NOT to make an appointment.