Full Time
R 290 592.00 – R 504 696.00 Per Year USD / Year
Applications have closed
Salary: R 290 592.00 – R 504 696.00 Per Year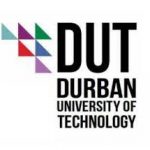 Website Durban University of Technology (DUT)
The Durban University of Technology is a multi-campus university situated in KwaZulu-Natal, South Africa.
Clinical Coordinator Job Vacancy at Durban University of Technology (DUT)
Durban University of Technology (DUT) is located on the warm east coast of South Africa. It sprawls over seven (7) campuses in tropical and picturesque Durban, and in Pietermaritzburg, with its undulating hills that flow over from the Drakensberg Mountain.
According to our ENVISION2030 strategy, DUT's DNA has two strands, namely 'people-centred and engaged' and 'innovative and entrepreneurial'. These are interwoven intrinsically by a number of double pairs consisting of 'values and principles' that bind our double-helix together. The extrinsic expression of our DNA is via The DUT-Way; which demonstrates our collective character and behaviour.
The University's ultimate goal is to contribute towards improving the lives and livelihoods of all its people, both internal and external. DUT consistently strives towards excellence and greatness in teaching-learning and in research-innovation; something that was been recognized recently when The Times Higher Education's World University Rankings placed DUT within the top 500 of Universities in the world and within the top 5 universities in South Africa. The enactment of these internationally recognized strengths is demonstrated in our impactful engagement internally and externally in service of our localities, the region and the country at large.
DEPARTMENT OF NURSING -INDUMISO – MIDLANDS CAMPUS CLINICAL COORDINATOR (TRAINING)
REF: NEW POST (FIVE-YEAR CONTRACT PAID ON CTG)
Minimum Requirements:
Clinical Coordinator
• A Master's degree in Nursing.
• Registration with the South African Nursing Council (SANC) as a General Nurse, Midwife, Nurse
• Educator, Assessor and Moderator.
• Two years clinical experience as a professional nurse and midwife
• Two years' experience in a Higher education institution
• Valid driver's licence.
Clinical Coordinator Job Vacancy at Durban University of Technology (DUT)

Summary of Duties
• Coordination and administration of all activities pertaining to clinical training of the undergraduate Nursing students
• Liaison with professional body SANC regarding all matters relating to clinical training
• Liaison with industry and other relevant bodies body SANC regarding all matters relating to clinical training
• nsuring accurate record keeping for all clinical training documents including student portfolio of evidence and record of clinical training in line with the requirement by the professional body and OUT
• Clinical Facilitation and accompaniment
• Working in collaboration with lecturers
• Supervision of all clinical academic and support staff
• Participation In community engagement
• All other relevant duties as delegated by HoD and HoP
Status of Position : 5 years contract. Email for Application : Careers@dut.ac.za.
Contact Person : Mr B.K Skhakhane (031 3733158)
Appointment Type : Academic
Salary : R 290 592.00 – R 504 696.00
Please complete an official application for employment form and send a detailed CV and a covering letter with the exact name of the post you are applying for to: careers@dut.ac.za
Application form obtainable from our website www.dut.ac.za
Check out : Important Tips to use during a Job Search
Communication will be entered into with short- listed candidates only.
Only applications made on our application for employment form would be considered.
"While DUT strives for equal opportunities, preference will be in terms of the University's Equity Plan, with specific consideration for Female candidates. The University reserves the right not to appoint.
CLOSING DATE: 25 November 2022
Download Application for Employment Form Here