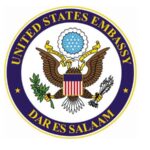 Website US Embassy Dar es Salaam
The mission of the United States Embassy is to advance the interests of the United States, and to serve and protect U.S. citizens in Tanzania.
Community Management Coordinator Job Vacancy at the US Embassy Dar es Salaam / U.S. Embassy in Tanzania
Announcement Number:
DaresSalaam-2023-047
Hiring Agency:
Embassy Dar Es Salaam
Position Title:
Community Management Coordinator (All Interested Candidates)
Open Period:
09/13/2023 – 09/27/2023
Format MM/DD/YYYY
Vacancy Time Zone:
GMT+3
Series/Grade:
LE – 6520 8
Salary:
TZS TSh38,384,127 /Per Year
Work Schedule:
Full-time – 40HRS PER WEEK
Promotion Potential:
LE-8
Duty Location(s):
1 Vacancy in
Dar Es Salaam, TZ
Telework Eligible:
No
For More Info:
HR Section
255-22-229 4148
usembdarhiring@groups.state.gov
Overview
Hiring Path:
• Open to the public
Who May Apply/Clarification From the Agency:
All Interested Applicants / All Sources
Security Clearance Required:
Public Trust – Background Investigation
Appointment Type
Permanent
Appointment Type Details:
Indefinite subject to successful completion of probationary period
Marketing Statement:
We encourage you to read and understand the Eight (8) Qualities of Overseas Employees before you apply.
Summary:
The U.S. Mission in Dar es Salaam is seeking eligible and qualified applicants for the position of Community Management Coordinator in the Public Affairs Section.
Supervisory Position:
No
Relocation Expenses Reimbursed:
No
Travel Required:
Occasional Travel
Occasional Travel
Back to top
Duties
Implementation (60%)
Organizes and hosts daily public online discussions, promotes Mission news and information, and facilitates discussion of foreign policy issues and American values. Incorporates strategic content on trending issues. Recruits subject matter experts (credible voices) for campaigns, projects, and development of strategic content.
Identifies, selects, and/or creates and edits content for use in online engagement. Designs and produces special projects and initiatives to engage specific audience groups on priority issues and/or to feature ambassadorial and other Mission engagement in-studio or at off-site locations. Uses audience analysis, analytic data, and qualitative analysis to customize content for specific target audience groups, adapting language, syntax, and format to appeal to their interests. Using market research, determines which delivery channel(s) will reach target audiences and generate engagement; works with the Digital Production Coordinator to compile strategic content packages, matching policy content with visual, graphic, and multimedia elements that reinforce and strengthen the impact of policy content. Monitors the impact of online engagement to identify reception, reach, and sentiment within each community.
Maintains Mission library of strategic content. Ensures that flagship digital properties operate in compliance with Federal law and regulations, Department of State (DOS) policies and procedures, private-sector and host-country standards, and societal norms. Facilitates content sharing and brand consistency among CMCs at constituent posts (where relevant) and, at the direction of the Information Officer, provides guidance and coordinates engagement with Mission digital properties managed by Consular Affairs, U.S. Agency for International Development (USAID), Department of Commerce, and others.
Continuously monitors the "health" of Mission online properties for level of impact, inappropriate or inadmissible content, non-compliance with regulations/policies, and the presence of online trolls. Recommends to the Information Officer appropriate actions to enforce legal/Mission standards. Reviews the outcomes of previous activities, using analytics and qualitative assessments to identify non- or under-performing Mission online properties, and recommends changes.
2. Strategic Planning, Analysis, Evaluation, and Recommendations (20%)
Actively plans online editorial calendar focus and campaigns at least six (6) months in advance to conduct audience research, identify funding sources and expert participants, and identify and/or develop content creation and promotion.
Researches, tracks, and analyzes evolving countrywide and regional markets for Mission digital properties. Plans and builds out digital platforms to promote Mission policy priorities, responding to evolving interests and information consumption preferences of Mission priority audience groups. Assesses previous activities to fine-tune planned initiatives; identifies project objectives, assessment methods, and outcomes for online engagement. Contributes to the Mission Integrated Country Strategy (ICS), the annual Public Diplomacy Implementation Plan (PDIP), and the Public Diplomacy Country Context (PDCC).
Designs and implements hands-on training to prepare Mission personnel to create content and use digital platforms.
Continuously monitors trending issues and conversations in online communities to identify the nature of the commentary on issues of importance to the Mission. Conducts media and audience analysis research to stay abreast of competitive practices and assess the market share for Mission properties. Reviews the impact of content to assess overall sentiment and return on investment; recommends emerging opportunities for new online investments of time and resources to enhance Mission effectiveness.
3. Intra- and Interagency Coordination (10%)
Develops strong, collaborative working relationships across the Mission to access other section's/agencies' content and recruit experts for online engagement. Encourages information exchange across the Mission, including with constituent posts (where relevant), to develop shared activities, campaigns, programs, and priorities. Works with Mission elements, including American Spaces and other PD Section staff, to develop online marketing strategies, integrate online activities with traditional media and in-person programming, and leverage digital engagement tools to support projects and campaigns targeting specific audiences.
4. Administrative Functions (10%)
Budgeting and Financial Resources: Monitors and tracks U.S. government (USG) funds available for Mission flagship properties. Prepares budget projections for site maintenance, license agreements, acquisition of material, and advertising. Researches the cost and feasibility of new digital tools and emerging technologies to meet changing requirements and evolving audiences.
Back to top
Qualifications and Evaluations
Requirements:
EXPERIENCE:
Three (3) years of experience in managing digital properties, including online interaction with the public and content creation in multimedia and traditional formats is required.
Community Management Coordinator Job Vacancy at the US Embassy Dar es Salaam
JOB KNOWLEDGE:
A detailed understanding of host-country perceptions of the United States and U.S. foreign policy is required. A detailed understanding of regional, ethnic, socioeconomic, political, cultural, and linguistic factors and the influence of religious, cultural, and educational institutions is required. A detailed understanding of the formal and informal influence structures and related communication preferences is required. The incumbent must also have a keen understanding of the rules, often unstated, of social protocol and discourse in the host country and must know how to "read" both spoken and unspoken communication to be able to engage productively with individuals and institutions from a wide variety of backgrounds.
Broad knowledge of commercial marketing techniques, market (audience, information consumption, and media) analysis and analytics, customer service standards, and digital and traditional communication preferences of the PD target audience in the host country is required. Must have broad knowledge of managing online communities, including techniques to stimulate engagement with the public, organizing and hosting online interactive chats and live events, and live tweeting remarks, as well as a good understanding of preferred formats and delivery channels for information targeted to specific audience groups of interest to the Mission. Must understand the complex and changing nature of the communications and information environment in the host country; broad knowledge of trends in host-country information consumption, format, and channel preferences of priority audience segments is required.
Education Requirements:
An associate degree or two (2) years of full-time university studies in Communications, Business, Marketing or local equivalent is required.
Evaluations:
LANGUAGE: Level 4 (Fluent) Speaking/Reading/Writing English is required. Level 4 (Fluent) Speaking/Reading/Writing Swahili is required. (This may be tested)
SKILLS AND ABILITIES: Analytic Skills, Communication and Interpersonal Skills, Management Skills and Technical Skills.
EQUAL EMPLOYMENT OPPORTUNITY (EEO): The U.S. Mission provides equal opportunity and fair and equitable treatment in employment to all people without regard to race, color, religion, sex, national origin, age, disability, political affiliation, marital status, or sexual orientation.
Diversity Equality and Inclusion Statement
The US Mission to Dar es Salaam, Tanzania values a workforce of different backgrounds, cultures, and viewpoints. We strive to create a welcoming environment for all and we invite applicants from diverse backgrounds to apply.
Qualifications:
All applicants under consideration will be required to pass medical and security certifications.
Back to top
Benefits and Other Info
Benefits:
Agency Benefits:
The U.S. Mission in Tanzania offers compensation package that may include health, separation, and other benefits.
Other Information:
HIRING PREFERENCE SELECTION PROCESS: Applicants in the following hiring preference categories are extended a hiring preference in the order listed below. Therefore, it is essential that these applicants accurately describe their status on the application. Failure to do so may result in a determination that the applicant is not eligible for a hiring preference.
HIRING PREFERENCE ORDER:
1. AEFM / USEFM who is a preference-eligible U.S. Veteran*
2. AEFM / USEFM
3. FS on LWOP and CS with reemployment rights **
* IMPORTANT: Applicants who claim status as a preference-eligible U.S. Veteran must submit a copy of their most recent DD-214 ("Certificate of Release or Discharge from Active Duty"), Letter from Veterans' Affairs which indicates the present existence of a service-connected disability dated within the past six months, equivalent documentation, or certification. A "certification" is any written document from the armed forces that certifies the service member is expected to be discharged or released from active duty service in the armed forces under honorable conditions within 120 days after the certification is submitted by the applicant. The certification letter should be on letterhead of the appropriate military branch of the service and contain (1) the military service dates including the expected discharge or release date; and (2) the character of service. Acceptable documentation must be submitted in order for the preference to be given.
** This level of preference applies to all Foreign Service employees on LWOP and CS with re-employment rights back to their agency or bureau.
For more information (i.e., what is an EFM, USEFM, AEFM, MOH, etc.?) and for additional employment considerations, please visit the following link.
Back to top
How to Apply
How to Apply:
To apply for this position, applicants MUST apply electronically via ERA.
For more information, visit this link https://tz.usembassy.gov/embassy/jobs/
Required Documents:
To qualify based on education, you MUST submit the requested degree and / or transcripts as verification of educational requirement by the closing date of this announcement. Failure to provide requested information, or the information is insufficient to verify eligibility, may result in disqualification for this position.
All Applicants:
Proof of Citizenship
Copy of work permit (if not a TZ national)
University Degree
Transcript
Other document (if any)
Other document 2 (if any)
Eligible Family Member Applicants:
• Copy of Sponsor's Orders/Assignment Notification (or equivalent)
• Passport copy
• DD-214 – Member Copy 4, Letter from Veterans' Affairs, or other supporting documentation (if applicable)
• SF-50 (if applicable)
Next Steps:
Applicants who are invited to take a language or skills test, or who are selected for an interview will be contacted only via email.
Thank you for your application and your interest in working at the U.S. Mission in Tanzania.