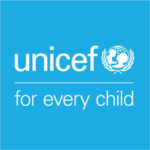 Consultant Job Vacancy at
UNICEF
Consultant: 'Jumuiya Za Afya na Ujana Salama' Scaling-up synergetic community-based interventions to improve lives of the most vulnerable children, adolescents, and women in Kigoma
UNICEF works in some of the world's toughest places, to reach the world's most disadvantaged children. To save their lives. To defend their rights. To help them fulfill their potential.
Across 190 countries and territories, we work for every child, everywhere, every day, to build a better world for everyone.
And we never give up.
For every child, dedication
Kigoma continues to be one of the most deprived regions of Tanzania where despite improvements in recent years, the population continues to face significant challenges in terms of poverty, health, nutrition and overall well-being, especially among the most vulnerable groups – young children, adolescents and pregnant women. The trends of maternal and perinatal mortality continue to be unacceptably high and accounts for 6 percent of all maternal deaths in the country. Also, adolescent pregnancy in the region accounts for 32 per cent of all maternal deaths last year (District Health Information System (DHIS)-2 2021). HIV prevalence is 2.9 per cent and knowledge of HIV and Acquired Immunodeficiency Syndrome (AIDS) is generally low in the region (Tanzania HIV Impact Survey 2017). The region has a high prevalence of violence against children and women, with approximately 36 per cent of children and women in the region exposed to violence
The "Jumuiya Za Afya na Ujana Salama" (Scaling-up synergetic community-based interventions to improve lives of the most vulnerable children, adolescents, and women in Kigoma) project has been implemented for the past four years in Kigoma under the umbrella of the United Nations Kigoma Joint Programme (UNKJP). The programme is fully aligned and contributing to the United Nations Sustainable Development Cooperation Framework (UNSDCF). The objectives are contributing to the People and Enabling Environment outcomes of the UNSDCF. UNKJP phase two was launched last year December. The UNKJP is chaired jointly by Kigoma Regional Commissioner and United Nations Resident Coordinator in Tanzania.
The "Jumuiya Za Afya na Ujana Salama" program is funded by the Embassy of Ireland and aligns to the 2022-2026 Mission Strategy of Ireland in Tanzania, particularly to outcomes 2, 3, 4 and 5, which promote the holistic empowerment of
vulnerable children, women, and girls. UNICEF shares Ireland's focus on increasing access to improved nutrition, sexual and reproductive health, and primary health care. The focus on fostering women and girls' sustainable and resilient livelihoods and increasing social participation has been identified as a shared priority for the partnership.
In the fifth year of "Jumuiya Za Afya na Ujana Salama", UNICEF will build on lessons learnt in the four years of the programme to date and continue to support the Government in addressing the interrelated challenges of vulnerable children, women, and girls in Kigoma region. UNICEF will i) strengthen health, nutrition, child, and social protection systems; ii) scale up service provision; iii) strengthen capacities of core service providers; iv) improve linkages between existing programmes; v) support existing systems to generate reliable data and evidence; and vi) build emergency preparedness and response capacities, including for COVID-19.
How can you make a difference?
Lesson learnt study will focus on assessing the following key areas:
 Effectiveness:

Assess how the various interventions implemented under the Jumuiya za Afya na Ujana Salama programme in Kigoma region have contributed to achieve results focusing on
Community health / Primary Health Care
Health Basket Fund (HBF)
Nutrition (Village Health and Nutrition Days)/NMNAP II
Child protection system strengthening
Assess the governance and coordination through existing government platforms/structures of Community Based Health Services, Child protection multisectoral coordination structures, Village and Health Nutrition Day (VHND) and Health Basket Fund Jumuiya za afya na ujana salama interventions and beyond at village/Street, ward, district and region levels.
Assess current and potential pathways for integration of gender programming, climate actions (including green energy systems at health care facilities) and interventions to address violence against women, adolescent girls and children into government systems and Jumuiya za afya na ujana salama.

Relevancy:

Assess how this programme is contributing to regional and national priorities as guided by policies such as National Accelerated Action and Investment Agenda for Adolescent Health and Wellbeing (NAIA-AHW), Community Health Workers (CHW) national policy guide 2020, National Plan of Action to End Violence against Women and Children (NPA VAWC), National Multi-sectoral Early Childhood Development Programme (NM – ECDP), National Multisectoral Nutrition Action Plan (NMNAP) II and identifying examples of strengthening local level structures that ensures sustainability of interventions.

Scalability/Sustainability:

Assess, Identify, analyze, and document best practices, key lessons learnt and systems that can be replicated at scale / sustained by government and through increased government ownership

Partnership & Synergies: Analyze and document the partnership framework for four years of implementation including partnership and collaboration framework particularly:

Alignment and synergies with UN Kigoma Joint Programme/ and other relevant interventions in the area
Other partnerships and collaboration including with the government, Civil Society Organizations (CSOs) and any other relevant programmes
identifying examples of strengthening local level structures that ensures sustainability of interventions

Potential areas for future programming

Based on the above analysis and criteria, recommend key interventions that are suitable for scaling and integration into government plans and systems, and proposed joint work by UN agencies to support this through the KJP II.
Deliverables:
Work Assignments Overview
Deliverables/Outputs
Payment percentage
Inception report including approved methodology, data collection tools and methodology, analysis plan, planned outputs, options on structure, workplan.
Inception Report (5 working days
20%
Data collection and presentation of the initial findings and validation with stakeholders
Field report/Raw data (20 working days)
40%
Draft report

-Travel to Dar es Salaam for presentation

Draft Report and a 5-pager project proposal (5 working days)
15%
Final report including a 5-pager project proposal for future partnership considering key recommendations and lessons learnt from the four-years programme and the country context
Final Report (7 working days)
10%
PowerPoint presentations of findings to the team
Meeting organized (1 working day)
10%
Briefing note drawn from executive summaries with relevant graphs/infographics
Dissemination of the findings to stakeholders (5 working days)
5%
To qualify as an advocate for every child you will have…
Advanced degree (Masters or PhD) in anthropology, sociology, political science, public health, nutritional epidemiology, nutrition or a related discipline preferred. Candidate should have substantial formal training and experience in qualitative research methods.
Extensive experience in conducting evaluations or lesson learnt studies
 At least five years of relevant field experience doing qualitative research, involving the collection of original data. Experience running qualitative studies, including in data collection design, implementation, and analysis, in developing countries.
 Demonstrated ability to work effectively and sensitively in teams and with government counterparts

Strong spoken and writing skills in English and Kiswahili
Consultant Job Vacancy at UNICEF
For every Child, you demonstrate…
UNICEF's values of Care, Respect, Integrity, Trust, Accountability, and Sustainability (CRITAS).
To view our competency framework, please visit  here.
UNICEF is here to serve the world's most disadvantaged children and our global workforce must reflect the diversity of those children. The UNICEF family is committed to include everyone, irrespective of their race/ethnicity, age, disability, gender identity, sexual orientation, religion, nationality, socio-economic background, or any other personal characteristic.
UNICEF offers reasonable accommodation for consultants/individual contractors with disabilities. This may include, for example, accessible software, travel assistance for missions or personal attendants. We encourage you to disclose your disability during your application in case you need reasonable accommodation during the selection process and afterwards in your assignment.
UNICEF has a zero-tolerance policy on conduct that is incompatible with the aims and objectives of the United Nations and UNICEF, including sexual exploitation and abuse, sexual harassment, abuse of authority and discrimination. UNICEF also adheres to strict child safeguarding principles. All selected candidates will be expected to adhere to these standards and principles and will therefore undergo rigorous reference and background checks. Background checks will include the verification of academic credential(s) and employment history. Selected candidates may be required to provide additional information to conduct a background check.
Remarks: 
Only shortlisted candidates will be contacted and advance to the next stage of the selection process.
Consultants has  to stipulate all-inclusive fees, including lump sum travel and subsistence costs, as applicable in their financial proposal 
Individuals engaged under a consultancy or individual contract will not be considered "staff members" under the Staff Regulations and Rules of the United Nations and UNICEF's policies and procedures, and will not be entitled to benefits provided therein (such as leave entitlements and medical insurance coverage). Their conditions of service will be governed by their contract and the General Conditions of Contracts for the Services of Consultants and Individual Contractors. Consultants and individual contractors are responsible for determining their tax liabilities and for the payment of any taxes and/or duties, in accordance with local or other applicable laws.
The selected candidate is solely responsible to ensure that the visa (applicable) and health insurance required to perform the duties of the contract are valid for the entire period of the contract. Selected candidates are subject to confirmation of fully-vaccinated status against SARS-CoV-2 (Covid-19) with a World Health Organization (WHO)-endorsed vaccine, which must be met prior to taking up the assignment. It does not apply to consultants who will work remotely and are not expected to work on or visit UNICEF premises, programme delivery locations or directly interact with communities UNICEF works with, nor to travel to perform functions for UNICEF for the duration of their consultancy contracts.