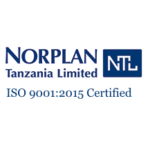 Website NORPLAN Tanzania Ltd
NORPLAN Tanzania Ltd (NORPLAN) is a multidisciplinary Consulting Engineers firm registered with Engineers Registration Board as a Local Consulting Company
Health and Hygiene Specialist Job Vacancy at NORPLAN Tanzania Ltd
NORPLAN Tanzania Ltd (NORPLAN) is a multidisciplinary firm of Consulting Engineers registered with Engineers Registration Board as a Local Consulting Company under Registration Number LCF 092. NORPLAN is a member of Association of Consulting Engineers Tanzania (ACET).
Due to the expansion of our consultancy services, we are seeking applicants for the post of Health and Hygiene Specialist.
Job Brief
To provide Occupational Health and Hygiene expertise, guidance, and support to the Project with regards to Work Activities, Hygiene in Camps and Kitchens including medical support thus ensuring optimum health onsite and compliance and have good sound knowledge of local regulations as well as abilities to perform Industrial Hygiene requirements.
Key Aims and Objectives
To ensure a robust H&S performance is initiated and maintained throughout the life of the Project.
Expectations (overview/responsibilities)
Provide input to the development of targeted H&S Improvement Plans and associated support documents.
Engage with management representatives and Field Contractors in a pro-active relationship.
Participate in project start up work – (including project mobilization and early works).
Ensure thorough Contractor Health and Hygiene(H&H)assessments as required.
Facilitate and participate in Health and Hygiene related Risk Assessments and ensure all matters of Health and Hygiene are in compliance with Project and International standards with specific emphasis to:
Occupational Health Programs – such as fitness to work, health surveillance etc.
Health Promotion Programs
Camps and Kitchens
Medical and First-aid stations
Medical support vehicles and equipment
Medical support staff.
Responsible for the oversight and assurance to implementation and maintenance of the Project H3SE Management Program.
Knowledge/Experience/Competencies Required
Qualification
Industrial Hygiene Degree/Diploma
Occupational Health and Hygiene Degree/Diploma
Recognized International Certification in the above fields
Technical Competencies
The ability to implement and maintain an H&H program to camps and site for a Marine Storage facility
Ability to travel to all project locations
Ability to understand technical drawings.
Health and Hygiene Specialist Job Vacancy at NORPLAN Tanzania Ltd
Project Specific Competencies
Project Camp and Medical Station experience.
Occupational Health, Public Health, and Hygiene
Industrial Hygiene monitoring programs and requirements.
Mode of Application:
Qualified Candidates should send applications to the EMAIL address indicated below so as to reach the undersigned within 14 days from the first appearance of this advert in newspapers. The application letter should be enclosed with;
Curriculum Vitae with two referees
Copies of relevant certificates and awards
One passport size photograph attached to application letter.
Apply to:
The Managing Director
NORPLAN Tanzania Limited
Consulting Engineers and Planners
P.O. Box 2820
Dar es Salaam, Tanzania.
Email:info@norplan.co.tz