Full Time
Applications have closed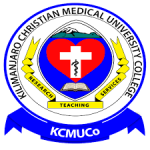 Website Kilimanjaro Christian Medical University College
The Kilimanjaro Christian Medical University College is a constituent College of Tumaini University Makumira
Internal Auditor Grade III Vacancy at Kilimanjaro Christian Medical University College.
The Kilimanjaro Christian Medical University College is a constituent College of Tumaini University Makumira, owned by the Evangelical Lutheran Church of Tanzania. The College trains health professionals for various University awards in clinical, biomedical and allied health sciences. It currently wishes to recruit a competent and committed person to fill the position of Internal Auditor.
Post: Internal Auditor Grade III
Minimum Qualifications
Educational qualifications:
Bachelor's degree in Accountancy, Bachelor of Commerce (Accounting) or Bachelor's degree in Accounting and Finance from an accredited College or University or any other related qualifications recognized as its equivalent. Must be registered with the National Board of Accountants and Auditors as a CPA- Graduate.
Working Experience:
At least one year of working experience in Auditing.
Knowledge, skills and abilities:
Analytical/Critical thinking skills
Data mining and analysis skills
Inquisitiveness
lntegrity(honest, responsible, and diligent)
Professionalism
Confidentiality
Objectivity
Impartiality
Dependable and reliable
An ability to recognize and respond to diverse thinking styles, learning styles
A global mind-set
Good IT skills
Good Communication skills
Teamwork spirit
Internal Auditor Grade III Vacancy at Kilimanjaro Christian Medical University College
Duties and Responsibilities
Carrying out regular/normal audits for departmental accounts (Finance, Administration, Academic, Research, etc.).
Executing financial and operational internal audits, including developing and performing specific audit procedures, prepare working papers, documenting the audit procedures performed, and communicating audit findings to College Chief Internal Auditor.
Ensures that accepted accounting principles and standards as well as accounting policies/ manuals are followed.
Assisting the Chief Internal Auditor in assessing the effectiveness of the College internal control system.
Ensuring that the procurement plan, the fiscal accountability plan, quality assurance and management operations and procedures manuals and related documents are in place and adhered to.
Reviewing and auditing the financial and para-financial activities of the College and submit quarterly reports to the Chief Internal Auditor.
Advising the Chief Internal Auditor from time to time on the efficiency of management and control of the College finances and Assets.
Conducting investigations and special audits wherever necessary and reporting the findings to the Chief Internal Auditor.
Assists in the preparation of quarterly Audit Committee and College Governing Board meeting reports and other ad-hoc requests.
Assisting the CIA in carrying out the College risk assessment.
Assists the CIA in the preparation of a risk based Annual Internal Audit Plan.
Performing any other function as may be assigned by his/her superiors.
Remuneration for the Post
Competitive and attractive package of salary and fringe benefits will be offered to the successful candidate.
Mode of Application
Applications enclosing detailed CV's, certified copies of all relevant academic certificates and transcripts, including form IV and VI certificates, names and addresses of three referees should be sent to the undersigned on or before 12th September 2022.
Your application should be sent to the undersigned via e-mail at provost@kcmuco.ac.tz, OR through Post or hand-delivery addressed to:
The Provost
Kilimanjaro Christian Medical University College
P 0. Box 2240 Moshi, Tanzania
NB:0nly short-listed candidates will be notified and called for an Interview.