Full Time
Applications have closed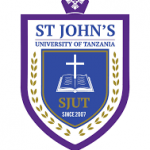 Website St John's University of Tanzania
St John's University of Tanzania is a private university in Dodoma, Tanzania.
Office Management Secretary Job Vacancy at St John's University of Tanzania
ST JOHN'S UNIVERSITY OF TANZANIA
EMPLOYMENT OPPORTUNITY
St John's University of Tanzania (SJUT) is a relatively young but dynamic university aspiring to become a global player in the provision of higher education, owned by the Anglican Church of Tanzania (ACT). SJUT is committed to a culture of quality, excellence and absolute integrity in the context of Biblical values. The University is seeking to recruit and bring onboard suitable individuals to provide effective leadership and contribute to the realization of the aspirations of the University. The Chief Mazengo campus is located at Kikuyu area in Dodoma, about 3.5km southwest of the City centre. For further information, please visit www.sjut.ac.tz.
The University invites applications from suitably qualified candidates to fill the following position:
1. DIRECTORATE OF HUMAN RESOURCES MANAGEMENT AND ADMINISTRATION
Job Title: OFFICE MANAGEMENT SECRETARY – OMS II (1 Post)
(a) Reports to: Director of Human Resource Management and Administration (DHRMA)
(b) Duty Station: SJUT Chief Mazengo Campus – Dodoma
(c) Job Summary: Assisting the relevant offices of the University in the duties pertaining to office management and secretarial duties.
(d) Qualification: Holder of a Form IV certificate with at least two credits one of which must be in English, or Form VI certificate with at least one principal pass. Candidates must have successfully completed Secretarial Course and passed Secretarial Examination Stage II i.e. passed Shorthand in English
80 words per minute, Typing 100/120 w.p.m, Manuscript Stage II, Tabulation Stage III, Office Procedure Stage II and Secretarial Duties Stage II and have Advanced Computer Course from a recognized institution.
(e) Experience: With a minimum of three (3) years working experience in a high profile office.
(f) Main Duties and Responsibilities:
The Office Management Secretary II shall specifically be responsible, for:
(i) Typing all general correspondence and non-confidential matters;
(ii) Performing secretarial duties including typing photocopying (correspondence, minutes, reports, circulars, bulletins, certificates);
(iii) Taking proper care of all machines under his/her charge;
(iv) Performing all filing tasks and ensuring all office duties are covered;
(v) Filing copies of typed letters in relevant files;
(vi) Receiving and directing visitors; undertaking receptionist duties;
(vii) Attending telephone calls and taking messages;
(viii) Providing assistance to top executives of the University;
(ix) Undertaking routine correspondence with prior approval of one's reporting officer;
(x) Dealing with confidential matters in the office of the executives;
(xi) Arranging meetings and appointment schedules for the senior executives;
(xii) Making hotel booking for senior executives; and
(xiii) Performing any other duties as may be assigned by one's reporting officer.
(g) Salary Scale: Staff salary rank according to SJUT Scheme of Service
(h) Tenure: Local permanent and pensionable terms.
Office Management Secretary Job Vacancy at St John's University of Tanzania
Mode of Application: Complete application package that consists of application letter supported with detailed Curriculum Vitae (CV) with three referees and their contact details, certified relevant copies of certificates i.e. Degree/Diploma certificates, testimonials, academic transcripts plus secondary school certificates should be submitted not later than Tuesday, 31st October, 2023 at 04:00 p.m. to:
Vice Chancellor,
St John's University of Tanzania
1 St John Road, 41111 Kikuyu North Ward | P.O Box 47, Dodoma, Tanzania.
E-mail: admin@sjut.ac.tz OR hr@sjut.ac.tz Website: www.sjut.ac.tz
Please Note:
(i) "Testimonials", "Provisional Results", "Statement of Results", and FORM IV and FORM VI Results Slips will not be accepted.
(ii) Applicants who have studied abroad, have to show evidence of recognition of their foreign awards by relevant authorities (TCU, NACTE and NECTA).
(iii) When you apply through email, please put the job title on the subject line and attach only 2
files, one being application letter and curriculum vitae, and the second academic certificates.
Read: A Sample Application Letter for Office Manager Job Position
Read Also: How to Write a Good Office Assistant Cover Letter ( with an Example )