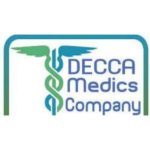 Website DECCA Medics Company Ltd
DECCA Medics Company Ltd is registered and operates its business activities in Tanzania
Records Assistant Job Vacancy at DECCA Medics Company Ltd

DECCA Medics Company Ltd is registered and operates its business activities in Tanzania by providing health services such as DECCA College, DECCA Polyclinic, DECCA Pharmacies and DECCA Health Centre and New DECCA Hospital – Dar es Salaam. The company now invites applicants who are selfmotivated, flexible working in multicultural environment, honest, hardworking and committed individuals to fill the following various vacant posts:
Vacant Positions: Records Assistant x 1 – Duty station: DSM
Job Purpose:
Records Assistant is responsible for records keeping while supporting the success of hospital activities in our daily operations. Records assistant is responsible for filing system at the hospital. The incumbent will be responsible to provide assistance to the administration, in managing and maintaining records. Compile, gather and organize reports, documents and records. Process, scan and index records. Keep records in a safe and secure manner under lock and key. Will oversee and execute everyday administrative tasks to ensure that the records operation activities run smoothly and successfully.
Duties and Responsibilities
Creating and maintaining a records management system.
Performing data entry tasks. iii. Updating existing records. iv.           Maintaining company archives.
Retrieving information from the filing system when requested
Support office with administrative and secretarial tasks
Understand and maintain hospital policy and regulations as updated time to time.
Collaborating with the management to ensure standards of service as per requirement; ix. Adhering to Health and Safety issues and wellbeing of the staff;
Adhering to working schedule accordingly within the records section.
To do other tasks in the field that will be assigned by supervisor.
Minimum Qualifications:
Holder of Ordinary Diploma in Records Management, Management of Health Information
system, Records and Archive Management and others related discipline from recognized
Institutions and any other
equivalent qualifications from recognized institutions. However the
candidate with strong Business communication skills, customer care and interpersonal skills will be added advantage.
Records Assistant Job Vacancy at DECCA Medics Company Ltd
GENERAL REQUIREMENTS:
The applicant should be with working experiences not less than 3years in the same positions,
All applicants must attach up-to-date Curriculum Vitae (CV) having reliable contact information such as; postal address, Email, and telephone numbers and the CV should include three referees,
How to Apply:
All applicants must attach their CERTIFIED copies of their Certificates, iv. All the applications should be sent through e-mail only to the following address;
DIRECTOR OF HUMAN RESOURCES AND ADMINISTRATION,
DECCA MEDICS COMPANY LTD,
P.O.BOX 372
DODOMA
E-MAIL:decohasvacancy@gmail.com
Deadline for application will be on 10th September, 2023. The candidate who will be shortlisted will be contacted for interview.