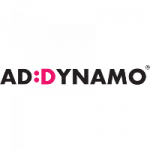 Website Ad Dynamo
Ad Dynamo is the largest digital media sales business in Africa.
Salesforce Coordinator Job Vacancy at Ad Dynamo
Description
Ad Dynamo is an Aleph Group Inc company. We are a global sales house that represents leading digital media platforms across various regions of the globe, such as Snapchat, Spotify, Twitter, and Yahoo. Aiming to connect advertisers to every digitally connected user in its respective markets, Ad Dynamo equips its brands and agencies with the market know-how and innovative strategies to maximise their ROI's.
By joining Ad Dynamo you'll be part of a global digital media business that represents some of the world's leading digital platforms with the opportunity to forge a rewarding career and have fun while doing it.
Requirements
Main Function:
Act as assistant to Ad Operations team.
Responsibilities:
Maintain and organise Insertion Orders
Manage and build a pipeline in Salesforce by Coordinating the Sales Teams input
Ensure client records are up to date in Salesforce
Alert the management team of potential billing issues
Keep detailed notes of missing Opportunities or Insertion Orders
Troubleshoot and Manage Aleph Sales Admin team expectations
Submit and Track New Account Submission
Assist Finance team in on-boarding new clients
Requirements:
Experience on Salesforce (advantageous)
Experience on Excel or Google Sheets
Strong Time management.
Strong Written communication.
Strong Verbal communication.
Self-motivated, highly organised and detail-oriented
Salesforce Coordinator Job Vacancy at Ad Dynamo
Benefits
A competitive salary
Flexi-time and remote working
Great working culture
Fun working environment with skilled diverse individuals
Contribute to establishing a globally recognised brand
Opportunity to build your career