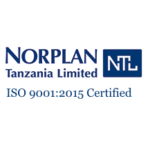 Website NORPLAN Tanzania Ltd
NORPLAN Tanzania Ltd (NORPLAN) is a multidisciplinary Consulting Engineers firm registered with Engineers Registration Board as a Local Consulting Company
Senior Document Controller Job Vacancy at NORPLAN Tanzania Ltd
NORPLAN Tanzania Ltd (NORPLAN) is a multidisciplinary firm of Consulting Engineers registered with Engineers Registration Board as a Local Consulting Firm under Registration Number LCF 092 and member of Association of Consulting Engineers Tanzania (ACET).
Due to the expansion of our consultancy services, we are seeking for applicants for the following posts with corresponding detailed job descriptions:
Senior Document Controller
Responsibilities
The main responsibilities for the Senior Document Control personnel will be to issue Key Document Change Notices and assist the interface team with the transfer of documentation to the project contractors.
Secondary responsibilities shall include, but not limited to:
Assist the DC team with issuance of Contractor and Supplier documents during busy periods – A contractor or supplier may be assigned specifically dependent on workload.
Update and implement distribution matrices.
Assist management with pulling reports from Aconex.
Engaging with both Company and Worley team members when they require assistance with Aconex.
Creating user accounts for Aconex.
Processing MDR change requests.
Attend meetings when required.
Familiarize themselves with project procedures and specifications.
Facilitate the delivery managers with the expedition and close out of overdue actions in Aconex.
Cover other DCs duties during leaves of absence and holiday.
A minimum of five years' document control experience.
Experience with large-scale Document Control Software is required, Aconex highly desirable.
Proven accuracy, reliability with a conscientious work ethic.
Must be detail-oriented and highly organized.
Effective oral and written communication skills.
Experience with Microsoft Office Suite of software is required.
Experience with PDF software (Adobe Acrobat Pro, PDF Xchange Editor) is required.
Senior Document Controller Job Vacancy at NORPLAN Tanzania Ltd
Mode of Application:
Qualified Candidates should send applications to the EMAIL address indicated below
so as to reach the undersigned within 21 days from the first appearance of this advert
in newspapers. The application letter should be enclosed with:
Curriculum Vitae with two referees
Copies of relevant certificates and awards
One passport size photograph attached to application letter.
Note:
Only Shortlisted Candidates will be contacted.
Apply to: The Managing Director NORPLAN Tanzania Limited Consulting Engineers and Planners P.O.Box 2820 Dar es Salaam, Tanzania.
Email: info@norplan.co.tz