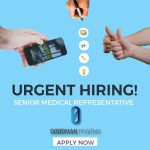 Website Goodman Pharmaceutical
Pharmaceutical Company in Tanzania
Senior Medical Representative Job Vacancy at Goodman Pharmaceutical
o Company: Goodman pharmaceutical
o Location: Tanzania
o City : Dar es salaam
o Job type: Full-Time
o Job category: Healthcare/Medical Jobs in Tanzania
________
Job Description
________
Position: Senior Medical Representative
Department: Sales and Marketing
Location: Dar es Salaam, Arusha, Mbeya and Mwanza.
About the Job:
This position is full time.
As Medical Representative you will be responsible to promote and sell the company's products which include pharmaceutical drugs to the Doctors and Pharmacists and will be reporting to Sales and Marketing Manager.
Your primary objective will be to establish and maintain strong relationships with key stakeholders while providing accurate and relevant information about the products you represent. Your responsibilities will include driving sales, conducting product presentations, and staying updated on industry trends and competitors.
Responsibilities:
To do Market Research / MIS for finalizing customer. (Doctors/Pharmacist list)
To meet doctors and pharmacists every month as per product / brand /company strategy.
To book orders from retailers in local HQ as well as upcountry retailers. (Outstation tour/coverage minimum 5 days per month)
To exceed the Targets monthly/quarterly /annually.
To ensure 95% Markets/Doctors/Retailer coverage
To ensure 2 Retail orders to be booked each day
Responsible to collect outstanding's from the market as per the advice of accounts department.
Products to be promoted through Digital Marketing / Medico Marketing.
Conducting CME meetings with doctors, hospitals, pharmacies and healthcare staff every month.
Preparing and submitting daily and weekly reports.
Senior Medical Representative Job Vacancy at Goodman Pharmaceutical
Qualifications:
1. Bachelor's degree in pharmacy or Diploma in pharmaceutical science, Medicine, Veterinary or any other Degree in biological science/Chemistry.
2. Minimum 5 years and above experience in the same field
Excellent communication and interpersonal skills.
Strong negotiation and persuasion abilities.
Self-motivated and results-oriented.
Ability to understand and communicate complex medical information.
Familiarity with medical terminology and healthcare practices.
This job description is not intended to be all-inclusive. The employee may be required to perform other duties as assigned.
How to Apply :
INTERESTED CANDIDATES should send their CV to:
Human resource; Email: nabayu@goodmanpharma.net

* Goodman Pharma will only get in touch with shortlisted candidates***
The Deadline for Submitting the Applications is 30th November 2023.