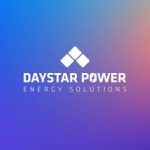 Website Daystar Power Group
Provides and runs solar hybrid power systems for African businesses
Senior Solar Engineer Job Vacancies at Daystar Power Group
Description
Daystar Power Group is a Pan-African provider of solar and hybrid power solutions, offering its systems on a Power Purchase Agreement (PPA), fixed monthly fee lease, or buy-out basis. All our solutions are accompanied by comprehensive maintenance services, to ensure the solutions run 365 days a year. We are currently operational in seven countries including Nigeria, Ghana, Togo, Senegal, and Ivory Coast, and have recently launched in South Africa and Tanzania.
We are looking to engage competent and experienced Solar and Hybrid solution Engineers to design suitable solutions to help meet our clients' needs. He or she will work with the Head of Business Development, Head of Projects, and the Group Sales Engineering team to understand the client's power needs, conduct detailed site audits, and design custom solutions to meet the client's objectives.
We are seeking hard-working, self-motivated, and well-organised individuals with a focus on continuous improvement to exceed expectations. The Senior Solar Engineer will support the growth of the Tanzanian business through technical design, technical advisory, and technical support for opportunity development, project development, project management, implementation, operations, and maintenance.
Daystar Power Group is an equal opportunity employer, committed to promoting diversity and inclusion in the workplace. We prohibit all forms of discrimination and harassment based on race, color, gender, religion, sexual orientation, national origin, disability, genetic information, pregnancy, or any other characteristic protected by federal, state, or local law.
Qualified women are encouraged to apply.
Key responsibilities:
1. Sales Engineering (Solar and Hybrid System Design and Installation)
Complete engineering and design of solar PV and hybrid systems (on and off-grid).
Conduct site/energy audits and analyse customer needs.
Support component evaluation, specification, and selection based on cost vs. performance benefits.
Produce comprehensive technical and commercial offers.
Produce a summary of material lists and bills of quantities to determine costs and coordinate with the supply chain department and other key internal stakeholders.
Technical support for tender and proposal preparation including technical aspects of the project models.
Lead technical client conversations through email, phone calls, and in-person meetings.
Review contract technical requirements and facilitate close out of technical clauses in contract negotiations.
Technical support for all licensing and approval processes.
2. Project Management:
Develop implementation plans and designs for projects up to 100MW.
Carry out site and roof assessments before installations.
Installation of power systems across various states in Tanzania and East Africa
Supervision of technicians during installations of solar power solutions
Liaise with regulatory and governmental institutions as required.
Working condition
Approximately 50% of time shall be spent in office environments with the remaining time in the field.
Physical requirements
The Engineer shall be capable of lifting up to 20kg; stand for an extended period of time; and work in an outdoor environment.
Senior Solar Engineer Job Vacancies at Daystar Power Group
Requirements
1. Education: Minimum of a Bachelor's degree in Electrical Engineering.
2. Experience: A minimum of 3 – 5 years' work experience in Electrical Engineering roles, in the solar or power industry.
3. Competencies:
Computer proficiency required, creating spreadsheets and reports using Microsoft Software Programs (Microsoft Excel and PowerPoint in particular).
Use of software like HOMER, Pvsyst, and Helioscope.
Professional Engineer / Candidacy registration (Pr Eng/Pr Tech Eng with ECSA)
4. Language Proficiency: English (excellent oral & writing skills); Swahili (mother language)
5. Character:
a. Self-motivated and demonstrates a sense of ownership with a high level of commitment and the ability to thrive under pressure.
b. Passionate about quality of workmanship.
c. Good communication skills and ability to work well in teams.
d. Highly organised with the ability to manage multiple projects in parallel and prioritize competing demands.
e. Passion for renewable energy.
f. Attention to detail and extraordinary oral and written communication skills.
g. Willingness to adapt, learn, and grow with the company.
h. High level of integrity.
i. Ability to work effectively and harmoniously in a group.
6. Flexible to travel domestically and internationally.
7. Demonstrated experience managing multiple projects simultaneously at various stages.
8. Proficient computer skills, including Microsoft Office Suite (Word, PowerPoint, and Excel) – report writing and analysis.
9. Ability to multitask and thrive in a fast-paced environment.
Benefits
Opportunity to work in a forward-looking, innovative company, with an international group of colleagues.
Unlimited career opportunities – depending on achievements and personal development.
A competitive salary and benefits package with long-term prospects in a fast-growing company.
Please note that only shortlisted candidates will be contacted.
How to Apply:
Read Also: The 5 Do's and 5 Don'ts in Preparing a Perfect Job Application Letter