Full Time
Applications have closed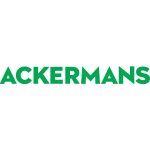 Website Ackermans
Ackermans is a South African chain of clothing retail stores.
Trainee Store Manager-JHB Centres Job Vacancy at Ackermans
Job Advert
The primary focus of the Store Manager position would be to maintain top standards in all areas of responsibility:- customer service, the achievement of sales targets and quality standards on the sales floor, shrinkage and cost control, day-to-day store administration, stock image, visual merchandising, the pro-active management, people management, motivation and training and development of your team members.
Qualifications
Matric or equivalent Further qualifications related to retail / business will be an advantage.
Knowledge, Skills and Experience
Be energetic and a self starter 3 years retail experience which includes at least one year in a management position Outstanding merchandise management, stock and cost control skills A focus on customer service The capacity to maintain high store standards A Proven ability to influence and lead a team You will have a keen development orientation in that you will be inspired to develop yourself and fellow team members Ability to communicate effectively in English (written and verbal) and competence in a second official language would be a definite advantage
Key Responsibilities
Optimize the sales of the store through the effective implementation of business processes.
Generate and exceed sales budget and growth. Optimize profit through the effective management of costs. (To manage cost within budget)
Ensure professional HR practices in staffing and talent processes.
Effective stock management in your store. Exceed customer expectations.
Ensure subordinate effectiveness through effective leadership and clear communication and management of job performance. Adhere to Company policies and procedures.
Ensure a climate of productivity and positive morale by living the Company values. Manage your store according to the business plan to ensure optimal brand and store image representation.
Trainee Store Manager-JHB Centres Job Vacancy at Ackermans
Other
The successful applicant will need to be able to work within a team and have lots of drive.
She/he will need to be able to work to deadlines, and to effectively deal with numerous and complex issues and priorities, so sound judgement, decision making and time management skills are very important.
The ability to manage merchandise effectively will also be a critical attribute.
The Store Manager is also responsible for ensuring that the administration, compliance with company procedures and the financial controls of the store are consistently at the required levels, and applicants will need to demonstrate their competence and knowledge in this regard. If you feel you meet the above requirements for this position, please submit your application or you can submit your application online for Attention Beatrice Mataitsane.
Please note:
Should you not be contacted or liaised with four weeks after the closure of the advert, you have regretfully been unsuccessful. Please note: In terms of the Ackermans policy for appointments and promotions, preference will be given to internal applicants who meet the competencies and minimum requirements for the position. Preference will also be given to candidates who will enhance the diversity of the team and contribute to employment equity within the Company provided that the competencies and minimum requirements for the position have been met.
Deadline: 19 / 11 / 2022
View: The 7 Important Interpersonal Skills for any Job
–
Recommended: Read our Job Tips Here to enhance your Application
How to Apply: