Full Time
Applications have closed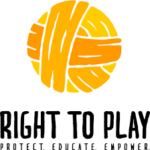 Website Right To Play International
Right To Play is empowering 1.9 million children every day.
Global Lead, Technical Assistance Job Vacancy at Right To Play International
Department/Division: Global Program Unit
Work location: One of Right To Play offices (Burundi, Canada, Ethiopia, Ghana, Jordan, Lebanon, Mali, Mozambique, Pakistan, the Palestinian Territories, Rwanda, Senegal, Tanzania, Thailand, Uganda or United Kingdom)
Work arrangement: A combination of in-office and remote-working in accordance with Right To Play's work arrangement and the operational needs of the department
Authorized to work in: One of the 16 countries listed above
Target Hiring Range: Local salary scale applies
Target Start Date: Immediate
Contract Duration: Long-term engagement with an initial fixed-term contract
Closing Date: Open until position is filled
BACKGROUND:
Right To Play is a global organisation that protects, educates and empowers children to rise above adversity using play. By harnessing play, one of the most powerful and fundamental forces in a child's life, we helped 2.3 million children last year to stay in school and out of work, to prevent life-threatening diseases like HIV and malaria and to stay safe from exploitation and abuse. We are the only global development organization focused exclusively on using play to transform the lives of children and youth impacted by poverty, war, disease and inequality.
Established in 2000, Right To Play reaches children through experiential programming in 15 countries in Africa, Asia, the Middle East, and North America. These programs are supported by our headquarters in Toronto, Canada; London, UK and eight national offices across Europe (Germany, The Netherlands, Norway, Sweden, Switzerland, UK) and North America (Canada, US).
With a shared passion for our mission, our Culture Code guides how we act and interact based on five core pillars:
Accept Everyone – Be intentional about inclusion
Make Things Happen – Seek opportunities to lead and innovate
Display Courage – Act with integrity
Demonstrate Care – Look after yourself and one another
Be Playful – Have fun at work
Please visit our website to learn more about who we are and what we do, and watch this video to find out about the five pillars of our Culture Code.
Global Lead, Technical Assistance Job Vacancy at Right To Play International
JOB SUMMARY:
The Global Lead, Technical Assistance reports directly to the Director, Global Programme Development, and will be instrumental in developing and growing Right To Play (RTP)'s technical assistance strategy, building partnerships and alliances to grow the technical assistance portfolio, as well as providing strategic leadership across the different technical assistance projects, integrating learnings and new adaptations. The Global Lead, Technical Assistance will work closely with the Global Program Development team specialists, Global Director, Country Operations (GDCO) and the Director of Strategy and Planning to leverage their expertise in delivery of high-quality technical support to the Government and NGO partners. The role will oversee the work of consultants based in Sierra Leone.
The most recent technical assistance initiative is in partnership with BRAC to support the Ministry of Basic and Senior Secondary Education (MBSSE) in Sierra Leone to implement its new education policy and provide high-quality, play-based early childhood development and primary education to children aged 3 -12.
The incumbent may be required to travel occasionally up to 40% of time.
PRIMARY RESPONSIBILITIES:
Job Responsibility #1: Program Development (30% of Time):
Lead the development and implementation of a technical assistance strategy, that leverages on unique programme models and evidence within RTP.
Develop an engagement strategy with political leaders and senior influencers in global education spaces and priority countries, identifying partners' needs to design customized technical assistance initiatives.
Map prospective partnerships to build different consortiums in line with future prospective funding scenarios.
Seek funding opportunities, and lead proposal development processes in collaboration with country offices, fundraising, policy, and stakeholder engagement teams to position RTP as a technical assistance leader in the integration of play-based methodologies.
Design needs-based technical assistance programmes for NGO and government partners, including, where needed, the design and facilitation of workshops and activities to identify entry points for technical assistance on play-based methodologies.
Develop standard training, facilitation, and presentation templates.
Job Responsibility #2: Programme Quality (30% of Time):
Work with the Senior Management Executive team to identify and develop offers to support the growth of RTP.
Leverage existing technical expertise within country offices and the Global Programme Development team to develop processes to contextualize and customize existing program models to the partner needs.
Leverage technology to develop high quality models of digital, hybrid and in-person approaches to technical assistance in collaboration with the Education Technology specialist.
In collaboration with the global Monitoring, Evaluation and Learning team, develop a measurement framework and success indicators aligned to global indicators to monitor and assess the quality and impact of technical assistance.
Job Responsibility #3: Operations & Management (25% of Time):
Collaborate with GDCO to design an operational modality for Technical Assistance in countries with no RTP presence.
Develop operational strategies for delivering cost effective technical assistance projects in collaboration with global operations, finance and people & culture teams.
Supporting the rollout / sensitisation to new Technical Assistance models and approaches within Country Offices.
Oversee the management of current and future strategic technical assistance projects.
Job Responsibility #4: External Representation (10% of Time)
Lead and/or contribute to responses to Technical Assistance requests, including drafting briefs, and representing RTP in meetings.
Identify and take part in global education spaces, voicing RTP's strategy and practice to profile the organisation as thought leader on play-based learning and therefore a preferred technical assistance provider in the field.
Maintain relationship with multilateral agencies like World Bank, Global Partnership for Education (GPE) and Education Cannot Wait (ECW) to position RTP as preferred technical assistance partner.
Develop capacity statements and collateral to support solicitation of technical assistance opportunities.
Job Responsibility #5: Other Tasks as Assigned (5% of Time)
Global Lead, Technical Assistance Job Vacancy at Right To Play International
MINIMUM QUALIFICATIONS (Must have):
EDUCATION/TRAINING/CERTIFICATION:
Master's degree or equivalent in international business management, international development or related fields.
EXPERIENCE:
10 years of relevant experience
Proven experience in developing and leading organizational-level strategies.
Significant experience leading technical assistance programs within the non-for-profit, academic or consultancy firms in the private sector.
Proven experience building and maintaining networks with senior influencers and decision makers.
COMPETENCIES/PERSONAL ATTRIBUTES:
Business oriented with strong negotiation skills and confidence to pitch new ideas.
Networking skills and capacity to leverage from previous relationships with relevant experts in the global education sector.
Excellent representation skills within and outside the organization.
Demonstrated passion for primary education and play.
Appreciates and celebrates diversity within and outside the workspace.
KNOWLEDGE/SKILLS:
Solid knowledge on building and maintaining client relationships, anticipating needs and promoting the capabilities and strengths of RTP to strengthen our position in global spaces.
Strong knowledge of dynamics within relevant multilateral, governmental and funding institutions, and relationships with them.
Sound knowledge of regional and international political architecture and relationships within East and West African countries.
LANGUAGES:
Fluency in spoken and written English.
DESIRED QUALIFICATIONS (An Asset):
Additional Master's degree or studies in Education, Education Management, Development Studies, or similar areas.
Fluency in written and spoken French.
Experience providing assistance to Ministries of Education or comparable Ministries in the Global South.
Experience in a leadership role for at least 5 years.
Knowledge of the education system in Sierra Leone.
Knowledge of play-based methodologies.
WHAT YOU'LL GET:
The opportunity to work with a passionate, innovative and collaborative team where you have the ability to make things happen. You will gain experience working for a globally recognized organization with a healthy culture premised on our Culture Code (accept everyone, make things happen, display courage, demonstrate care and be playful). In addition, we offer a competitive salary and benefits package including flexible work policy (e.g. work from home and flex hours), up to 5 personal learning and development days per year and summer/winter hours.
How to apply
If you are interested in applying for this position, please click here to apply with your resume and cover letter in English.
While we thank all applicants for their interest, only those selected for interviews will be contacted. Shortlisting of applications will begin immediately and interviews may be held before the closing date.
Right To Play provides equal employment opportunities to employees regardless of their gender, race, religion, age, disability, sexual orientation or marital status. As such, we encourage women and groups who have been historically disadvantaged with respect to employment to apply for positions at Right To Play. We offer a family-friendly environment that allows for flexible work arrangements in order to support staff diversity and ensure a healthy work-life balance.
We are a child-centered organization. Our recruitment and selection procedures reflect our commitment to the safety and protection of children in our programs. The successful candidate will be required to provide a satisfactory Vulnerable Sector Screening or equivalent criminal check as a condition of employment.
Should you require any form of accommodation during the recruitment process, kindly contact the People & Culture team by email at careers@righttoplay.com