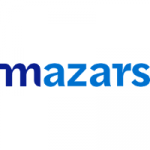 Website Mazars
Mazars is an international, integrated and independent firm, specialising in audit, accountancy, advisory and tax services.
Accountant Job Vacancy at Mazars
Job Description
An opportunity exists in the Accounting & Bookkeeping Division of Mazars; an international professional services firm, based at Mazars House in beautiful Century City, Cape Town.
The purpose of the Job:
To perform independent reviews, to produce annual financial statements and to complete the accounting function up to trial balance level for a variety of client portfolios.
Duties and Responsibilities
Gather client information
Prepare annual working paper files
Compile annual financial statements in accordance with IFRS for SME's
Perform independent reviews in accordance with ISRE2400 (essential)
Process and reconcile monthly/bi-monthly client transactions and produce management accounts as required
Produce and submit client statutory returns (VAT) and resolve SARS queries
Resolve review queries from Supervisor/Manager/Partner and do final entries as per Partner's finalisation
Manage individual productivity
Accountant Job Vacancy at Mazars
Minimum Requirements
Recognised Accounting qualification (Bachelor's degree)
At least 3 years of experience in an accounting / auditing environment in a similar role (specifically experience in performing independent reviews and compilation of annual financial statements)
Completed SAIPA/SAICA articles and professional membership is preferred (not essential)
Excellent Computer skills (MS Office, Excel, Outlook, Sage / Xero and Caseware)
Excellent communication and interpersonal skills
Excellent time management skills
Quality and detail oriented
Excellent customer focus
Planning and organising skills
Driver's licence (preferred not essential)
Own vehicle (preferred not essential)
Recommended: Read our Job Tips Here to enhance your Application