Full Time
Applications have closed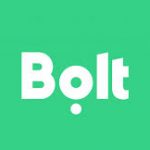 Website Bolt
Bolt Operates in over 400 cities in over 45 countries in Europe, Africa, Western Asia and Latin America.
Business Sales Specialist Job Vacancy at Bolt
Job Overview
About the job
We are looking for a Business Sales Specialist to join our team. You'll be the face of Bolt for Business, identifying potential clients, getting them excited about the possibilities, then negotiating and signing them.
B4B has big targets, the product is evolving getting better and better and our ambitions are high – aiming for 10X growth in the next 12 months. To achieve that, we're looking for focused, hungry people, brimming with ambition and talent – just waiting for the opportunity to show us what they can do. In this role you'll get plenty of autonomy, authority and you'll be closing big deals every day with real businesses. It's an amazing time to join!
Responsible for the whole sales chain, including prospecting, reaching out, taking meetings and deal closing
Proactive sales of Bolt for Business solutions to the SME and mid/large size business space
Achieve growth and hit sales targets
Build and promote strong, long-lasting customer relationships by partnering with them and understanding their needs
Account manage your biggest clients, develop and settle them before passing them on
Give market feedback to the product team regarding Bolt for Business solutions
Present sales, revenue and expenses reports and realistic forecasts to the management team
Identify emerging markets and market shifts while being fully aware of new products and competition status
Design and implement a strategic business plan that expands the company's customer base and ensure its strong presence
BS/MS degree in Business Administration or a related field
At least 2-4+ years of successful previous experience as a Sales Representative, Sales Lead or Sales Manager, consistently meeting or exceeding targets in a B2B environment
A self-starter, keen, ambitious and hungry to get results. Relentless and experienced in identifying target leads, reaching out and generating sales from cold leads
Excellent communication skills in both English and local language
Proven ability to drive the sales process from plan to close
Strong business sense and industry expertise of selling business services into SME and large businesses
Experience of religiously using a CRM (Pipedrive would be advantageous)
Experience onboarding clients and doing some account management with larger signings
Organised, process driven, with a great knowledge of sales techniques in B2B sales
Business Sales Specialist Job Vacancy at Bolt
How to Apply: