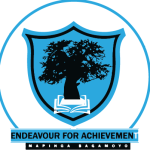 Website SHAJAR Schools (Baobab Secondary School)
These Schools are owned by Shajar Schools Association, a Non Government Organization (NGO) founded in 2004
Cashier Job Vacancy at SHAJAR Schools (Baobab Secondary School)
Job Description
SHAJAR Schools Management invites applications from suitably qualified persons to fill in the following vacancies available at its Schools.
Position: Cashier
Qualifications:
Bachelor Degree in Business Studies majoring in Accountancy: such as B.Com, BAF, BBA, and Bachelor of Accountancy.
In all positions, the salary is negotiable, depending on the candidate's qualifications and experience.
Cashier Job Vacancy at SHAJAR Schools (Baobab Secondary School)
How to Apply:
Interested candidates should send their applications attached with up-to-date CV and relevant Certificates to the Headmaster through the following e mails: headmaster@baobab.ac.tz or deputyheadmasterac@baobab.ac.tz
The deadline for submitting the application is 27 January 2023.
Check Out More Cashier Job Opportunities Here