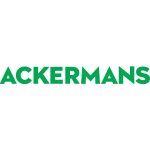 Website Ackermans
Ackermans is a South African chain of clothing retail stores.
Clerk: Fixed Assets Job Vacancy at Ackermans
Job Advert
Ackermans has an exciting opportunity for an Clerk: Fixed Assets. This position will be responsible for the the administration of the finance aspect of the Fixed Asset processes.
The successful candidate will report directly to the Assistant Accountant and will be part of a structured Finance team.
Ackermans, with over 800 stores in 6 countries, is a key part of the Pepkor Group, with 100 years of success behind us, Ackermans continues to expand and innovate. We are developing an "Agile" values driven culture to ensure we continue to be a leading value fashion retailer by continuously setting the standard for value and affordability.
Qualifications
Essential:
National Diploma in Accounting
Preferred:
Relevant Tertiary Qualification (Degree) in Accounting or similar
Knowledge, Skills and Experience
KNOWLEDGE required:
Good knowledge of Fixed Assets processes
Good knowledge of financial administration and basic accounting principles and their application (debits, credits, journals, reconciliations)
SKILLS required:
Computer skills, intermediate to advanced Excel
Attention to detail
Ability to work under pressure and with large volumes of work
EXPERIENCE required:
Essential:
2 -3 years relevant finance administration experience, including strong reconciliation experience
Preferred:
Retail experience
Clerk: Fixed Assets Job Vacancy at Ackermans
Key Responsibilities
Asset additions: Local and Foreign.
Fixed Asset Register Maintenance: Disposals, Transfers, Adjustments to Assets and Other Ad-Hoc Changes.
Prepaid and Other Reconciliations.
Journal processing.
Management Reports.
View: The 7 Important Interpersonal Skills for any Job
–
Recommended: Read our Job Tips Here to enhance your Application
How to Apply: