Full Time
TZS 42,060,191.06 per annum USD / Year
Salary: TZS 42,060,191.06 per annum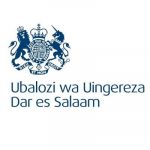 Website British High Commission Tanzania
Ubalozi wa Uingereza Tanzania
Communications and Engagement Officer Job Vacancy at the British High Commission Tanzania.
Communications and Engagement Officer (12/23 DAR)
The British Government is an inclusive and diversity-friendly employer.  We value difference, promote equality and challenge discrimination, enhancing our organisational capability. We welcome and encourage applications from people of all backgrounds. We do not discriminate on the basis of disability, race, colour, ethnicity, gender identity, religion, sexual orientation, age, veteran status or other category protected by law. We promote family-friendly flexible working opportunities, where operational and security needs allow.
Foreign, Commonwealth and Development Office (Policy & Political roles)
Communications, Press and Media
Main purpose of the job:
To support delivery of the UK government's communication objectives in Tanzania through in-depth understanding of the media landscape in Tanzania and creation of digital assets.  The successful candidate will lead on producing high-quality, engaging digital content while leading on media monitoring, reporting of daily on trends and identifying opportunities to support the policy work of the British High Commission through media.
Roles and responsibilities:
Monitor Tanzanian and international mainstream, specialist and social media, to maintain a daily awareness of the key issues in the country and the long-term media trends.
Produce tailored  written reports for the British High Commission on the relevant issues in the media, updating based on feedback and providing further information as required.
Brief in-person the High Commission leadership team every day on the key issues.
Provide analysis  on British High Commission communication activities and messages, to help identify the most impactful opportunities for external communications.
Monitor the High Commission's social media presence, report on the impact of our content, advising on improvements through evidence and data backed suggestions.
Capture and edit high-quality graphics and assets for use on social media, print and at events that effectively communicate the UK-Tanzanian partnership.
Publishing to UK government gov.uk website (training provided) and on social media platforms.
Assist the communications team with general admin and contribute to corporate life at the High Commission.
Excellent written, verbal, & interpersonal communications
Strong research skills
Thorough understanding of the media (traditional and social media) environment in Tanzania
Experience capturing and editing high quality and innovative visual content for impactful digital communications campaigns.
Highly skilled at photography, videography, and editing, including experience using Adobe Premier or equivalent.
Practical knowledge of using digital platforms and analytics tools, including Twitter, Facebook, Instagram, LinkedIn and Google Analytics.
Bachelor's degree
An understanding of digital campaigns.
Seeing the Big Picture, Managing a Quality Service, Communicating and Influencing, Working Together
United Republic of Tanzania
TZS 42,060,191.06 per annum
Learning and development opportunities:
Internal Communications learning and development opportunities are available. The UK government makes a wide-range of online and in-person training available.
Please complete the application form in full as the information provided is used during screening.
Please check your application carefully before you submit, as no changes can be made once submitted.
The British High Commission / Embassy will never request any payment or fees to apply for a position.
Employees recruited locally by the British High Commission / Embassy are subject to Terms and Conditions of Service according to local employment law.
All candidates must be legally able to work and reside in the country of the vacancy with the correct visa/work permit status or demonstrate eligibility to obtain the relevant permit.
The responsibility lies on the successful candidate to:

Obtain the relevant permit
Pay fees for the permit
Make arrangements to relocate
Meet the costs to relocate

The British High Commission / Embassy does not sponsor visas/work permits except where it may be local practice to do so.
Employees who are not liable to pay local income tax on their Mission salary may have their salaries reduced by the equivalent local income tax amount.
Information about the Civil Service Success Profiles can be found on this link: https://www.gov.uk/government/publications/success-profiles
Reference checking and security clearances will be conducted on successful candidates.
Appointable candidates who were unsuccessful may be placed on a 'reserve list'.  If during the reserve period of 12 months the same or a largely similar role becomes available, that role may be offered to the second or subsequent candidate".