Full Time
Applications have closed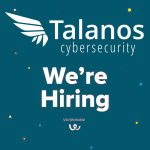 Website Talanos Cybersecurity - South Africa
Talanos Cybersecurity is a global Managed Security Services Provider.
Cybersecurity Analyst Job Vacancy at Talanos Cybersecurity
Description
Talanos Cybersecurity is a Managed Security Service Provider with clients in the financial services and IT sectors. We are a global team of security professionals and engineers committed to helping organisations of all sizes prepare, protect, detect and respond in the face of growing cybersecurity threats. Our Security Operations Centres are located in England, South Africa and India.
We are looking for a capable Cybersecurity Analyst, who enjoys security monitoring, solving puzzles and possesses a wide understanding of technology components and how they work together. You should have an understanding of TCP/IP and the broader OSI model, common networking ports and protocols, traffic flow, system administration, defence-in-depth and common security controls. You will help our customers improve their security posture by protecting system boundaries, keeping computer systems and network devices hardened against attacks and securing highly sensitive data. Ultimately, you will defend multiple organisation's computer hardware, software and other systems from theft, loss and other cyberattacks.
We have adopted a hybrid working model where staff are generally allowed to work remotely and flexibly from home unless required by our customers to attend the occasional face-to-face meeting. We still make sure however that we get together regularly to have fun as a team and enjoy a day out.
If you love to learn and are passionate about security – Talanos would love to have you work with us in our Security Operations Centre Team.
Duties and Responsibilities
Monitoring, analysis, triage and reporting of incidents using a range of security tools
Developing incident response plans and recommending remedial actions
Development and tuning of correlation rules and indicators of compromise
Research of latest threats and cybersecurity trends
Expansion and maintenance of various security tools and agents
Providing awareness with respect to cyber security and basic training.
Cybersecurity Analyst Job Vacancy at Talanos Cybersecurity – South Africa
Requirements
Bachelor's degree in Computer Science, Information Systems, or equivalent education or work experience
CISSP, CCNA, CCNP, CEH, SANS Cyber Security or similar technical security certification
Be physically based anywhere in Gauteng with the right to work in South Africa
This is an associate level role and we understand that perhaps you won't have experience or a deep understanding across all the requirements listed below – this is however a complete list of skills that you will need to develop over time to be an effective Cybersecurity Analyst:
Would be advantageous to have proven work experience as a Cybersecurity Analyst or similar role
Understanding of how servers, firewalls, proxies, SIEM, antivirus and IDPS are configured and work
Ability to identify and mitigate cybersecurity incidents and explain how to avoid them
Familiarity with security frameworks (e.g. NIST Cybersecurity framework) and risk management methodologies
Basic programming skills would be of further advantage (e.g. knowledge of C++, PHP, python languages)