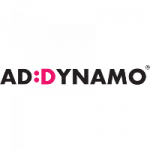 Website Ad Dynamo
Ad Dynamo is the largest digital media sales business in Africa.
Debtors Clerk | Cape Town Job Vacancy at Ad Dynamo
Description
About us:
Ad Dynamo is a tech-centric digital advertising business operating in several countries. We exist to solve business challenges for brands and deliver long term value. Ad Dynamo currently represents Twitter, Snapchat, Yahoo and Spotify exclusively in Africa. Our secret sauce is no secret – it's our people. We invest in our team and thoroughly believe that we hire the best people in the market.
Job description:
We are looking for a person that can assist in the timeous collection of debtors in order to maximise cash flow, minimise the risk of bad debts and ensure debtors days are kept on an acceptable level.
Requirements
Responsibilities include:
Onboarding of our new customers
Processing of new customers' vendor applications documents
Billings and collection of our prepay customers
Managing billings purchase orders
Managing the collections on select customer accounts
Qualifications:
Matric with Mathematics
Degree / Diploma in or equivalent tertiary study in accounting / credit management advantageous
Skills & Experience:
Minimum 2 years' debt collecting / credit control experience in an accounting team
Computer literate, including Basic MS Excel skills
Basic knowledge of accounting procedures
Familiarity with financial accounting statements
Experience with general ledger functions and the month-end/year-end close process
Experience with accounting software packages (XERO experience beneficial)
Excellent organizational skills, detail oriented, strong analytical and communication skills
Aptitude for numbers and quantitative skills
Well balanced and self-motivated
Personable, approachable as we interface with various stakeholders throughout the business
Ability to work well under pressure whilst maintaining financial accuracy
Process oriented and the ability to collaborate with senior management and others in the business
Debtors Clerk | Cape Town Job Vacancy at Ad Dynamo
Benefits
A competitive salary
Flexi-time and remote working
1 – 3 month paid sabbatical after 5 years service
Great working culture with regular office events and team building
Fun working environment with skilled diverse individuals
Contribution towards home internet
Parking
Contribute to establishing a globally recognised brand
Opportunity to build your career
No timesheets or complex approvals – just a serious focus on building a good culture for great work and superior client service
Free lunch once a month