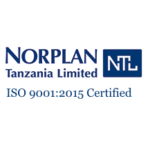 Website NORPLAN Tanzania Ltd
NORPLAN Tanzania Ltd has highly qualified professionals of diverse disciplines.
Environmental Advisor Job Vacancies at NORPLAN Tanzania Ltd – 3 Posts
NORPLAN Tanzania Ltd (NORPLAN) is a multidisciplinary Consulting Engineers firm registered with Engineers Registration Board as a Local Consulting Company under Registration Number LCF 092. NORPLAN is a member of Association of Consulting Engineers Tanzania (ACET).
Due to the expansion of our consultancy services, we are seeking applications for the following posts with detailed job descriptions for each respective post.
JOB DESCRIPTION
Environmental Advisor (3 Posts)
Job Brief
To coordinate contractors' activities as they affect the environment in relation to pipeline construction, to assure compliance to Company commitments and good international practice.
Qualifications / Experience Required
Master or Bachelor of Science degree with 10 years' environmental supervision experience in the construction industry, preferably pipeline related, is essential;
Excellent English communication skills (oral and written);
Good experience and knowledge of international ESIAs to IFC environmental and social performance standards as well as experience in Uganda/East Africa;
Knowledge of construction environmental management controls in the pipeline industry including watercourse/wetland crossings and topsoil conservation.
Compliance enforcement including site inspection and non-conformance reports;
Ability to understand and explain all project environmental requirements to contractors to assist in developing Contractor Control Plans;
Physical ability to work in the field and conduct inspection in difficult terrain and hot, rainy conditions;
Concise report writing on a daily, (weekly and monthly summary) basis.
Environmental Advisor Job Vacancies at NORPLAN Tanzania Ltd – 3 Posts
Mode of Application:
Qualified candidates should send applications to the address indicated below. The application letter should be enclosed with;
Curriculum Vitae with two referees
Copies of relevant certificates and awards
One passport size photograph attached to application letter
How to Apply:
The Managing Director
NORPLAN Tanzania Limited
Consulting Engineers and Planners
P.O. Box 2820
Dar es Salaam, Tanzania.
Email: info@norplan.co.tz
Only Shortlisted Candidates will be contacted.
The deadline for submitting the application is 17 May 2023.