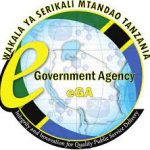 Website e-Government Authority (eGa)
Mamlaka ya Serikali Mtandao | e-Government Authority
ICT Officer II (Business Analyst) Job Vacancies at e-Government Authority (eGa) – 2 Posts
POST ICT OFFICER GRADE II (BUSINESS ANALYST) – 2 POST
EMPLOYER e-Government Authority (eGa)
APPLICATION TIMELINE: 2023-03-15 2023-03-28
JOB SUMMARY NA
DUTIES AND RESPONSIBILITIES
i.To analyze and perform the Institutional business process modelling as well as their association with technology solutions;
ii.To analyze and document business processes and translate these into functional specifications.
iii.To act as a bridge between business groups with need or problem and the technology teams designing/offering a solution to a problem or need;
iv.To participate in analysis of user requirements, prototyping, and integration of technological components, testing and deployment.
v.To participate in designing, development and implementation of enterprise wide applications for various channels (Web/Mobile/Desktop etc);
View also : ICT Officer II (Mobile Applications) Job Vacancies at e-Government Authority (eGa) – 2 Posts
vi.To ensure business requirements are translated accurately into working technical designs;
vii.To participate in development of new systems, business processes re-engineering, strategy planning or potentially organizational change;
viii.To provide support in the implementation of e-Government initiatives throughout project life cycle;
ix.To involve in solution testing and evaluation as part of quality assurance and control and communicating the deliverables state to the users;
x.To assist in the collection and consolidation of projects required information and data;
xi.To prepare and maintain technical and user documentations for various software functionalities;
xii.To train and support of software users for effective utilization of deployed systems;
ICT Officer II (Business Analyst) Job Vacancies at e-Government Authority (eGa) – 2 Posts
QUALIFICATION AND EXPERIENCE
Holder of Bachelor degree in Computer Science, Information Technology, Computer Engineering or related discipline from a recognized institution.
a.Ability to capture , translate and communicate software business requirements to various project stakeholders
b.Knowledge in project management;
c.Working knowledge of various software languages PHP, Java, C/C++, .NET, Python will be added advantage.
d.Knowledge in containerization and micro services application development approaches.
e.Knowledge on JSON, XML, and other similar data exchange protocols.
f.Knowledge on Database Management Systems including MySQL and PostgreSQL.
g.Practical skills on Object Oriented Design and Analysis (OOA and OOD);
h.Knowledgeable in Quality Assurance for developed ICT products/services;
i.Understanding of Software engineering concepts & modelling techniques and methods;
j.Knowledge in DHTML, HTML5, CSS & CSS3, JavaScript, jQuery and Responsive Web Design will be added advantage; and
View also : ICT Officer II (Application Programmers) Job Vacancies at e-Government Authority (eGa) – 6 Posts
k.Possession of an ICT related certifications (CISA, CRISC, CISM etc.) and/or certification in Project Management (PMP/PRINCE2 etc.) will be an added advantage.
REMUNERATION As per eGA Scheme of Service
How to Apply :