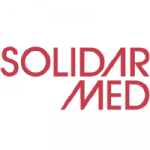 Website SolidarMed
SolidarMed places health care at the heart of all its activities.
Outreach Nurse – Primary Health Care(PHC) Job Vacancy at SolidarMed
SolidarMed is a leading non-profit organization working to improve the health care of 2.5 million people in Lesotho, Mozambique, Tanzania, Zambia and Zimbabwe. Working together with national partners to strengthen health systems and community capacities, we are committed to scientific evidence and policy dialogue both as foundations and objectives of our work
Outreach Nurse – Primary Health Care(PHC), Malinyi, Morogoro,Tanzania
Contract Type
100% one-year fixed contract, with extension subject to mutual agreement and performance
Place of Assignment
Malinyi, Morogoro region, Tanzania
Start of Contract
May 2023 or as soon as possible
Primary Health Care Project "PHC"
The Outreach Nurse assumes a pivotal role in the coordination and implementation of the outreach services through a mobile health van. The Primary Health Care Project in Malinyi will support the local health authorities to provide health care in a culturally appropriate way to the hard-to-reach population in Malinyi district through mobile clinic and outreach activities, combined with interventions to strengthen facility-based quality of care to ensure a continuum of care is established.
The Outreach nurse under the supervision of the Project Manager will work closely with the communities and health facility teams to ensure regular provision of preventive and curative health services through the mobile van (approximately threetimes per week)
Your tasks and responsibilities
– Providing high quality health care and ensuring high quality clinical services for the communities during the outreach services.
– Lead the outreach team in the health promotion activities to the communities reached by the mobile van.
– Report and request for the medical supplies and equipment for the mobile health van.
– Collect all outreach data using the electronic and paper–based tools and report to the Project Managerevery month.
– Strengthen referral services to the community members including scheduling for the follow up.
– Liaise with the health facility teams, community leaders and council health management team for scheduled outreach services to ensure efficientresources utilization.
– Proactively identify opportunities for the mobile health clinic/van to increase demand, efficiency and quality outreach services delivery and present them to the project manager for the further development of the project
– Develop periodic work plans and reports according to agreed milestones.
– Identify and share lessons learned and perform other duties as assigned by the superior.
Your profile
To best fit into our active, interdisciplinary team, we are looking for a highly motivated individual with the following qualifications:
– Must be a licensed Nurse, nurse/midwife with at least 3 years' experience in the hospital settings.
– Work experience in rural settings will be an added advantage.
– Strong communication skills to facilitate interactions with the communities and health facility teams.
– Team-player with good inter-personal skills
– Creative, open-minded, flexible, strategic thinker
– Willingness to regular travel in the hard to reach areas in the district.
– Knowledge of local language is an added value
View also: Migration Health Officer Job Vacancy at IOM
Outreach Nurse – Primary Health Care(PHC) Job Vacancy at SolidarMed
We offer
– The opportunity to have a significant impact to improve lives of a very vulnerable population.
– The possibility to contribute with nursing expertise.
– Being part of a highly motivated team.
– An attractive benefit package.
How to apply
Please email your application to ifakara@solidarmed.ch citing reference "Outreach Nurse – Primary Health Care Project, Malinyi, Tanzania 2023" and include.
– your CV including 3 references (max. 2 pages)
– a covering letter outlining your motivation and how you meet the requirements.
Applications are accepted in electronic format only. Please also mention how you heard about the job posting (if internet, please mention which site).
Due to the high volume of applications, SolidarMed will only contact shortlisted candidates. We kindly ask you not to send in duplicate or hard copies of your CV.
Deadline for applications
21st April 2023 ​
Recommended: Read our Job Tips Here to enhance your Application