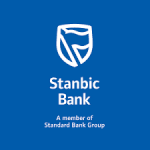 Website Stanbic Bank Tanzania
Stanbic Bank Tanzania is a full-service commercial bank that specializes in providing facilities and services to public and private sector corporations.
Personal, Assistant Job Vacancy at Stanbic Bank Tanzania
Job Description
To provide end-to-end secretarial support to an Executive(s) by acting as the first point of contact to ensure all administrative requirements are handled within the required timeframes and standards.
Qualifications
Minimum Qualifications
Type of Qualification: Degree
Field of Study: Office Administration
Experience Required
Secretarial Services
Business Support
5-7 years
Experience in all aspects of supporting a senior person in the management of their office or administrative requirements.
Additional Information
Behavioral Competencies:
Adopting Practical Approaches
Articulating Information
Challenging Ideas
Establishing Rapport
Following Procedures
Impressing People
Interacting with People
Interpreting Data
Managing Tasks
Showing Composure
Taking Action
Upholding Standards
Personal, Assistant Job Vacancy at Stanbic Bank Tanzania
Technical Competencies:
Diary Management
Email Monitoring
Meeting Logistics
Procurement Process
Travel Arrangements
Written Communication