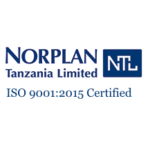 Website NORPLAN Tanzania Ltd
NORPLAN Tanzania Ltd (NORPLAN) is a multidisciplinary Consulting Engineers firm registered with Engineers Registration Board as a Local Consulting Company
Project Discipline Engineer Job Vacancy at NORPLAN Tanzania Ltd
NORPLAN Tanzania Ltd (NORPLAN) is a multidisciplinary firm of Consulting Engineers registered with Engineers Registration Board as a Local Consulting Firm under Registration Number LCF 092 and member of Association of Consulting Engineers Tanzania (ACET).
Due to the expansion of our consultancy services, we are seeking for applicants for the following posts with corresponding detailed job descriptions:
Project Discipline Engineer
Job Brief
The Project Engineer with expertise in the design of Oil transmission systems, pumping stations, storage / terminal facilities, will be responsible for monitoring expedite the response to Site Technical Quires and Deviations raised by Contractors from discipline Field Engineering assisting in their completion through the multi­discipline Field Engineering Team.
Role includes
Support Quality group to ensuring that materials, structures, and equipment are delivered, installed, tested in accordance with the PROJECT requirements.
Ensure all issued construction IFC documents, information and their revisions are managed to the Construction schedules for execution.
Conducting work in accordance with EACOP project Health, Safety, Environmental and Quality Systems(HSEQ).
Ensure all Master as-built records are maintained by Contractor and approved as per as built document procedure and index.
Review Construction Method Statement for Engineering HSEQ to ensure delivery and quality of construction work packs.
Provide response to Technical Query, Deviation Requests, information, and clarifications, submitted by Contractor.
Ensure that the engineering response to the Site Technical Queries STQ'S are expedited and Contractors implements changes corrections on site.
Coordinates activities, collaborating with the Lead Field Engineers, engineering disciplines, and supporting departments to ensure tender and/or project scopes are correctly interpreted, and deadlines met with
Safety Responsibility
Participating in Safety Leadership coordination with Construction teams.
Proactively develop behaviors and culture of safety first
Qualification and Experience
BSc or MSc engineering degree.
Minimum 15 years of experience of successfully delivering projects as a project engineer.
Experience of delivering projects in Tanzania or similar location.
Construction experience is preferred.
Coordinate resolution of Technical Queries by Company disciplines and expedite progress.
Experienced with the interpretation of complex scopes of work, contracts, schedules, and engineering deliverables such as P&IDs and Plot Plans.
Display analytical and innovation skills to manage scopes of work
Demonstrated communication skills including the ability to articulate complex engineering concerns & solutions with engineering teams of various technical and educational backgrounds.
Comprehensive understanding and sound knowledge of construction execution of onshore Pipeline, Pumping stations, Storage Terminals, and Jetty.
Experience on model review in SP3D / E3D / PDS / PDMS platform is preferred.
Knowledge of National, International standards and legislative requirements for design CAD Designer 2D is preferred.
Project Discipline Engineer Job Vacancy at NORPLAN Tanzania Ltd
Mode of Application:
Qualified Candidates should send applications to the EMAIL address indicated below
so as to reach the undersigned within 21 days from the first appearance of this advert
in newspapers. The application letter should be enclosed with:
Curriculum Vitae with two referees
Copies of relevant certificates and awards
One passport size photograph attached to application letter.
Note:
Only Shortlisted Candidates will be contacted.
Apply to: The Managing Director NORPLAN Tanzania Limited Consulting Engineers and Planners P.O.Box 2820 Dar es Salaam, Tanzania.
Email: info@norplan.co.tz