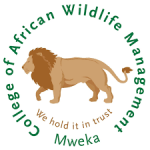 Website The College of African Wildlife Management (CAWM) Mweka
The College of African Wildlife Management (CAWM), Mweka is the leading institution in professional and technical training in Wildlife and Tourism
Ranger II Job Vacancy at The College of African Wildlife Management (CAWM) Mweka
RANGER II at College of African Wildlife Management -Mweka March, 2023
Job Description
POST RANGER II – 1 POST
EMPLOYER College of African Wildlife Management -Mweka (CAWM)
APPLICATION TIMELINE: 2023-03-07 2023-03-20
JOB SUMMARY N/A
DUTIES AND RESPONSIBILITIES
i. Patrols study area to suppress poaching, vandalism and bush fires;
ii. Receives orders to apprehend and evict violators of wildlife law and regulations in the study area;
iii. Maintains cleanliness and sanitation of the study area;
iv. Undertakes animal control activities in order to protect human life and property;
v. Maintains infrastructure and facilities in the study area including side drains, access roads and trails;
vi. To perform any other related duties as may be assigned by supervisor.
View also: 70 Wildlife Management Assistant II Job Vacancies at Ngorongoro Conservation Area Authority (NCAA)
Ranger II Job Vacancy at The College of African Wildlife Management (CAWM) Mweka
QUALIFICATION AND EXPERIENCE
Holder of an Advanced or Ordinary Certificate of Secondary Education with Basic Certificate in Wildlife Management, Paramilitary or range operations from a recognized institution.
REMUNERATION ATTRACTIVE REMUNIRATION PACKAGE.
The deadline for submitting the application is 20 March 2023.
How to Apply :