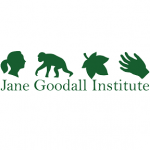 Website Jane Goodall Institute
A global community conservation organization that advances the vision and work of Dr. Jane Goodall
Zonal Roots & Shoots Coordinator Job Vacancy at the Jane Goodall Institute
About Us
The Jane Goodall Institute (JGI) is a global community conservation organization that advances the vision and work of Dr. Jane Goodall by conserving chimpanzees and inspiring communities to conserve the natural world we all share, we improve the lives of people, animals, and the environment. We strongly believe everything is connected and everyone can make a difference.
The Jane Goodall Institute Tanzania (JGI-TZ) is a reputable and rapidly expanding non-governmental organization committed to wildlife research, conservation, socio-economic development, and environmental education. The Jane Goodall Institute Tanzania (JGI-TZ) was founded in 2001 by Dr. Jane Goodall, DBE. The JGI Tanzania with its partners makes a difference through community cantered conservation, chimpanzees research projects, youths' environmental education, the innovative use of science and technology, we work closely with local communities in Tanzania, inspiring hope through a collective power of individual action.
The Jane Goodall Institute Tanzania with funding from the United States Agency for International Development(USAID)to support implementation of the new USAID funded project, USAID Tumaini Kupitia Vitendo is currently seeking to recruit suitably qualified and competent Tanzanians to fill the following vacant positions:
Zonal Roots & Shoots Coordinator
Job Summary
Zonal Roots & Shoots Coordinator is responsible for strengthening the capacity of Roots & Shoots clubs by developing young people's in protecting and conserving the environment, animals, and wildlife across all schools and out of school clubs in Iringa, Dodoma, Singida and Morogoro. The Coordinator is expected to build capacities of Roots & Shoots teachers, volunteers, and youth leaders to enhance the development of climate-responsible youth groups through the formation of a Roots & Shoots youths council which will enhance the quality and scope of youths in the discussion and delivering of Biodiversity education and youths-led climate activism, girls safe space, youth empowerments, leadership and coordination of Roots & Shoots Volunteers to ensure that club members in central Tanzania continue to be actively engaged using community mapping to identify local problems and solutions for a better environment, animals and human communities.
Zonal Roots & Shoots Coordinator will coach team of volunteers in the central zone to maintain a healthy program by raising young people's knowledge, awareness, passion, and participation to threats reductions on chimpanzee, habitats, biodiversity loss, and the climate change. The Zonal Roots & Shoots Coordinator will assist in achieving Intermediate Result – IRA of the USAID TKV project and will work with the Roots & Shoots Manager and the National Coordinator of Roots & Shoots Tanzania to provide technical, supervision, coordination, and support Roots & Shoots program growth in central zone.
Key Duties and Responsibilities:
Manage all Roots & Shoots activities in schools and out of school in Singida, Dodoma, Iringa and Morogoro through visits and outreach activities.
Coordinate all Roots & Shoots activities related to TKV projects across the central zone regions, including coordination of events, training for matrons and patron teachers, and day today's coordination of volunteers and youth-led actions.
Provide strategic Roots & Shoots program directions on Biodiversity education and youth-led climate activism to volunteers, teachers, and youth groups in central Tanzania.
Assist the Roots & Shoots Manager to provide technical and coordination guidance to Roots & Shoots volunteers, matron, and patron teachers to ensure the project meets donor requirements for timely reporting: document and disseminate project successes, lessons, and best practices.
To coordinate the design and production of biodiversity
and climate change education materials                       and
implementation of citizenship and Climate cards methodologies in the project schools
To support the formation of Roots & Shoots Youth Council in central Tanzania.
To coordinate youth empowerment trainings and coordination of youth-led actions in central Tanzania.
In charge of all Roots & Shoots administrative work in Dodoma by ensuring equitable resources to facilitate the running of the Dodoma zonal office.
Coordinate with Local and central government departments on issues related to youths, children, education, schools, biodiversity and climate change, and institutional networking.
Participate in the development and publication of Roots & Shoots education and communication materials such as documents, newsletters, leaflets, calendars, posters, stickers, Books, reports, and other campaign materials.
Zonal Roots & Shoots Coordinator Job Vacancy at the Jane Goodall Institute
Minimum Job Requirements and qualifications:
o Bachelor's degree in social sciences, education, youth development, public relations, Natural Resources, o A strong, creative communicator and youth champion skills in life skills and youth development to create activism and enthusiasm in youths, o Excellent skills in youth spaces, safety, and coaching skills to enhance youth participation to climate and biodiversity solutions.
o Knowledge of facilitating and organizing education training for teachers, and youth leaders,
o            A solid background                     in  professional        teaching of
earth-related science, extracurricular designs, and practical Nature Interpretation Skills,
o Strong skills in club coordination, events coordination, project management, and office administration, o Practical understanding of hands-on, conservation education, tree planting, innovative youth-led
Application Procedure:
All applications should be submitted together with the most recent Curriculum Vitae (CV)/resume, copy of relevant academic certificates & transcripts, testimonials, three names of reputable referees, day-time telephone number or e-mail address, and should be send to the following e-mail address: recruitment@janegoodall.or.tz
Only the final shortlisted candidates will be interviewed and provided with the interview feedback.
Deadline: Sunday, 26th November, 2023 before 5pm in the evening.
JGI Tanzania is an equal opportunity employer and considers all applicants on the basis of merit without regard to race, national or tribal origin, religious belief, gender, and marital status.
QUALIFIED FEMALE APPLICANTS ARE HIGHLY ENCOURAGED TO APPLY.
Recommended: Read our Job Tips Here to enhance your Application