Full Time
TZS 29,568,947 Per Year USD / Year
Salary: TZS 29,568,947 Per Year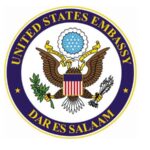 Website US Embassy Dar es Salaam
The mission of the United States Embassy is to advance the interests of the United States, and to serve and protect U.S. citizens in Tanzania.
About
Announcement Number:

DaresSalaam-2023-046

Hiring Agency:

Embassy Dar Es Salaam

Position Title:

Information Systems Assistant (All Interested Candidates)

Open Period:

08/31/2023 – 09/15/2023 Format MM/DD/YYYY

Vacancy Time Zone:

GMT+3

Series/Grade:

LE – 1805 7

Salary:

TZS TSh29,568,947 /Per Year

Work Schedule:

Full-time – 40HRS PER WEEK

Promotion Potential:

LE-7
Duty Location(s):

1 Vacancy in

Telework Eligible:

No

For More Info:

HR Section
+255-22-229 4148
usembdarhiring@groups.state.gov
Hiring Path:

• Open to the public

Who May Apply/Clarification From the Agency:

All Interested Applicants / All Sources

Security Clearance Required:

Public Trust – Background Investigation

Appointment Type

Permanent

Appointment Type Details:

Indefinite subject to successful completion of probationary period

Marketing Statement:

We encourage you to read and understand the Eight (8) Qualities of Overseas Employees before you apply.

Summary:

The U.S. Mission in Dar es Salaam is seeking eligible and qualified applicants for the position of Information Systems Assistant in the Information Management Section.

Supervisory Position:

No

Relocation Expenses Reimbursed:

No

Travel Required:

Occasional TravelOccasional Travel
Duties
Customer / End-User Support: 50%
IT-Mobile & AV Support Technician will serve as the first point of contact for end users and provide technical support for incoming queries and issues related to computer systems, software and hardware, smart devices (iPhones / iPads / Androids) and Audio & Video (AV) requests.
The incumbent will need to respond to work-orders as they are assigned and ensure they are completed on time as per the required guidance/standards in place (International Cooperative Administrative Support Services (ICASS) standards).
The incumbent will perform routine administrative tasks such as password resets, new user account creation, profile updates, deletion / transfer of user accounts, etc.
The incumbent will install and configure workstations, peripherals, laptops, printers, scanners, smart phones and audio-visual equipment. He or she will also perform routine maintenance on all computer equipment in the Local Area Network/Wide Area Network. The IT- MOBILE & AV SUPPORT TECHNICIAN will work with other Information System Center (ISC) staff, post's telephone and radio technician and other LES in all areas required to support the unclassified LAN network at post. This will include running and terminating Cat 5/6 or fiber optic cable and the installation and maintenance of workstations. As directed by the Information Systems Officer or Senior Systems Manager, the incumbent will assist in installing or relocating computer and telephone drops within Embassy offices, CMR, DCR, ACC or any location advised.
Training / Inventory and SharePoint Maintenance: 20%
The IT-Mobile & AV Support Technician will also provide basic introductory and follow-up training to Mission users, including Direct-Hires and Locally Employed Staff. He or She will require to conduct training sessions for end-users in various areas such as login to the unclassified systems, Microsoft Office 365 applications, usage of smart phones, remote applications, video teleconferencing systems, online tools, etc.
The incumbent will also be responsible for the inventories of all IT equipment, supplies, including serial numbers and user assignment. He or She will also be responsible to ensure that all the IT Equipment are inventoried correctly in the system. All items received or going for disposal are coordinated, recorded and updated according to the required guidance. The incumbent should be able to update the Embassy SharePoint Page with the latest information / data received from various sections.
Audio & Video Support: 15%
Job holder will be responsible to provide high quality customer service and technical support for all audio/visual and client solutions which include hardware configuration, presentations, video teleconference and customer engagement.
Provide high quality customer service for all audio/visual events and end user client hardware requests. Provide primary technical support for all Audio/Visual related systems including but not limited to display devices, Public Address (PA) Systems, Projectors, Video Teleconferencing (VTC) equipment. Provide comprehensive audio/visual support for meetings and events including setup, testing, operation and removal of AV equipment, configuration of conference room and event spaces and audio or video conferencing needs. Assist users with connectivity to various unified conferencing solutions (Microsoft Teams, WebeX, Zoom, etc.)
Mobile Devices / Smart Devices Support: 15%
The IT- MOBILE & AV SUPPORT TECHNICIAN will serve as the primary point of contact for all mobile device issues. He or she will be responsible for configuring smart phones / mobile devices, wiping and reissuing mobile devices and troubleshooting mobile device hardware and software issues.
The incumbent will ensure that any device issued is configured correctly using the required procedures and also, it is configured with the right user account and installed with the right applications. He or She will also need to coordinate with the Radio & Telephone Team Members to ensure that all mobiles devices issued to users have the latest phone contacts and when required, should be able to update immediately. The incumbent will be responsible for the inventory of the smart phones / devices and will ensure that all devices which have been issued or available in stock is recorded and updated accurately in the inventory system. He or She should be able to immediately respond with data when requested.
Note: "This position description in no way states or implies that these are the only duties to be performed by incumbent. Incumbent will be required to perform other duties as assigned by the agency."
Information Systems Assistant Vacancy at the US Embassy Dar es Salaam
Qualifications and Evaluations
Requirements:

EXPERIENCE:

At least three years in technical support/helpdesk support with emphasis on utilization of computer systems, Network operations and administration, audio/visual systems and applications, smart devices (mobile devices – Apple / Android), Microsoft Operating Systems (Windows 10, Windows 11, Windows Server 2019 and above, etc.), Microsoft Office 365 applications (word, excel, powerpoint, access, publisher, sharepoint, teams, OneDrive, visio, forms etc.) is required.

JOB KNOWLEDGE: 

Knowledge of computer hardware, software, mobile devices, audio-visual systems including video teleconferencing systems, public address systems, networking, and administration. He/she must also learn Department of State rules and procedures regarding networks and software.

Education Requirements:

Two years of College/University studies in computer science or information systems is required.

Evaluations:

LANGUAGE:

ENGLISH: Good working knowledge; (speaking, reading & writing)

KISWAHILI: Good working knowledge; (speaking, reading & writing)

(This may be tested)

SKILLS AND ABILITIES:

Must be able to lift and carry 40 pounds. Must possess good knowledge in the latest Microsoft operating systems and Office applications, AV Systems including video and teleconferencing systems, Public Address Systems and Smart Devices is REQUIRED. Basic typing skills and numerical skills is required.

EQUAL EMPLOYMENT OPPORTUNITY (EEO):  The U.S. Mission provides equal opportunity and fair and equitable treatment in employment to all people without regard to race, color, religion, sex, national origin, age, disability, political affiliation, marital status, or sexual orientation.

Diversity Equality and Inclusion Statement:

The US Mission to Dar es Salaam, Tanzania values a workforce of different backgrounds, cultures, and viewpoints.  We strive to create a welcoming environment for all and we invite applicants from diverse backgrounds to apply.

Qualifications:

All applicants under consideration will be required to pass medical and security certifications.
Benefits and Other Info
Benefits:

Agency Benefits:

The U.S. Mission in Tanzania offers compensation package that may include health, separation, and other benefits.

Other Information:

HIRING PREFERENCE SELECTION PROCESS:  Applicants in the following hiring preference categories are extended a hiring preference in the order listed below.  Therefore, it is essential that these applicants accurately describe their status on the application. Failure to do so may result in a determination that the applicant is not eligible for a hiring preference.

HIRING PREFERENCE ORDER:
1. AEFM / USEFM who is a preference-eligible U.S. Veteran*
2. AEFM / USEFM
3. FS on LWOP and CS with reemployment rights **

* IMPORTANT:  Applicants who claim status as a preference-eligible U.S. Veteran must submit a copy of their most recent DD-214 ("Certificate of Release or Discharge from Active Duty"), Letter from Veterans' Affairs which indicates the present existence of a service-connected disability dated within the past six months, equivalent documentation, or certification.  A "certification" is any written document from the armed forces that certifies the service member is expected to be discharged or released from active-duty service in the armed forces under honorable conditions within 120 days after the certification is submitted by the applicant. The certification letter should be on letterhead of the appropriate military branch of the service and contain (1) the military service dates including the expected discharge or release date; and (2) the character of service.  Acceptable documentation must be submitted in order for the preference to be given.

** This level of preference applies to all Foreign Service employees on LWOP and CS with re-employment rights back to their agency or bureau.

For more information (i.e., what is an EFM, USEFM, AEFM, MOH, etc.?) and for additional employment considerations, please visit the following link.
How to Apply
How to Apply:

To apply for this position, applicants MUST apply electronically via ERA.

 

For more information, visit this link https://tz.usembassy.gov/embassy/jobs/ 

Required Documents:

Required Documents:

To qualify based on education, you MUST submit the requested degree and / or transcripts as verification of educational requirement by the closing date of this announcement. Failure to provide requested information, or the information is insufficient to verify eligibility, may result in disqualification for this position.

All Applicants:
• Residency and/or Work Permit
• College/University Certificate
• College/University transcript
• Proof of citizenship/National Identification (National ID or Passport)

Eligible Family Member Applicants:
• Copy of Sponsor's Orders/Assignment Notification (or equivalent)
• Passport copy
• DD-214 – Member Copy 4, Letter from Veterans' Affairs, or other supporting documentation (if applicable)
• SF-50 (if applicable)

Next Steps:

Applicants who are invited to take a language or skills test, or who are selected for an interview will be contacted only via email. 

 

Thank you for your application and your interest in working at the U.S. Mission in Tanzania.