Full Time
TZS TSh130,103,112 Per year USD / Year
Salary: TZS TSh130,103,112 Per year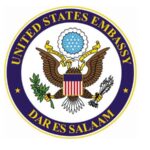 Website US Embassy Dar es Salaam
The mission of the United States Embassy is to advance the interests of the United States, and to serve and protect U.S. citizens in Tanzania.
About
Announcement Number:

DaresSalaam-2023-006

Hiring Agency:

Embassy Dar Es Salaam

Position Title:

Public Health Specialist (Surveillance) (CDC) (All Interested Candidates)

Open Period:

03/09/2023 – 03/23/2023Format MM/DD/YYYY

Vacancy Time Zone:

GMT+3

Series/Grade:

LE – 0550 12

Salary:

TZS TSh130,103,112

Work Schedule:

Full-time – 40 hours a week – work scheudle

Promotion Potential:

LE-12
Duty Location(s):

Telework Eligible:

No

For More Info:

 HR Section
000-000-0000
usembdarhiring@groups.state.gov
Overview
Hiring Path:

• Open to the public

Who May Apply/Clarification From the Agency:

All Interested Applicants / All Sources

Security Clearance Required:

Public Trust – Background Investigation

Appointment Type

Permanent

Appointment Type Details:

Indefinite subject to successful completion of probationary period

Marketing Statement:

We encourage you to read and understand the Eight (8) Qualities of Overseas Employees before you apply.

Summary:

The U.S. Mission in Dar es Salaam is seeking eligible and qualified applicants for the position ofPublic Heath Specialist (Surveillance) at CDC.

Supervisory Position:

No

Relocation Expenses Reimbursed:

No

Travel Required:

Occasional TravelOccasional Travel
Duties
Under the supervision of Science and Surveillance Branch Chief, the Epidemiology and Surveillance Team Lead oversees the design, implementation, and coordination of national and sub-national level PEPFAR-funded HIV surveillance systems, epidemiologic studies, and other relevant public health assessments/evaluations in the United Republic of Tanzania. The incumbent represents CDC Tanzania and PEFPAR Tanzania with full authority on surveillance and epidemiologic studies at technical, policy and strategic planning engagements, including high-level meetings with senior staff from CDC Tanzania, USG Interagency, Government of Tanzania, PEFPAR implementing partners, academic institutions, and donor agencies.  In coordination with other USG partner agencies through PEFPAR, the job holder collaborates with and provides highly specialized technical assistance and guidance to the Tanzanian Ministry of Health (MOH), National AIDS Control Program (NAPC), Zanzibar Ministry of Health, and Zanzibar Integrated HIV, Hepatitis, Tuberculosis and Leprosy Programme (ZIHHTLP) in the design and implementation of surveillance program activities, public health evaluations and trainings in epidemiology. The job holder serves as a key advisor to senior staff in CDC Tanzania including the Science and Surveillance Branch Chief, Associate Director of Data and Science, and the Country Director. The position directly supervises numerous public health surveillance fellows and provides work guidance to other staff. The incumbent is responsible for developing a range of trainings (up to advanced level) in epidemiology and surveillance for diverse staff from CDC Tanzania, USG Interagency, Government of Tanzania, and PEPFAR implementing partners. The incumbent may be assigned to act as the Science and Surveillance Branch Chief and Associate Director of Science (ADS) on occasions that may last up to six months.
Team Leadership  20%
Planning and Coordination 20%
Management and Oversight  30%
Monitoring and Evaluation 30% 
Note: The percent allocation per job area is an approximate of the expected duties but may shift over time to meet the needs of the agency. Moreover, this position description in no way states or implies that these are the only duties to be performed by the incumbent. Incumbent will be required to perform other duties as assigned by the agency.
Qualifications and Evaluations
Requirements:

EXPERIENCE:A minimum of 5 years of experience in public health programs, epidemiologic, and/or statistics in Tanzania is required.  At least 2-3 years of experience must include work with large databases or information systems, designing and implementing evaluations is required.

2 years of supervisory experience including technical supervision or experience providing work guidance and direction to subordinates even if they are not necessarily direct reports is required.

Education Requirements:

A doctoral level degree in public health (Epidemiology, Biostatistics, or Public Health) or a doctoral degree in a biomedical field (Medicine, Dentistry, or Surgery) is required.
View also: Regional Strategic Information (SI) Officer Job Vacancy at FHI 360
Evaluations:

LANGUAGE:  Fluent (reading, speaking, and writing) in English and Kiswahili is required. (this may be tested)EQUAL EMPLOYMENT OPPORTUNITY (EEO):  The U.S. Mission provides equal opportunity and fair and equitable treatment in employment to all people without regard to race, color, religion, sex, national origin, age, disability, political affiliation, marital status, or sexual orientation.

Qualifications:

All applicants under consideration will be required to pass medical and security certifications.
Public Health Specialist (Surveillance) (CDC) Job Vacancy at the US Embassy Dar es Salaam
Benefits and Other Info
Benefits:

Agency Benefits:

The U.S. Mission in Tanzania offers compensation package that may include health, separation, and other benefits.

Other Information:

For the current COVID-19 Requirements please visit the following link.HIRING PREFERENCE SELECTION PROCESS:  Applicants in the following hiring preference categories are extended a hiring preference in the order listed below.  Therefore, it is essential that these applicants accurately describe their status on the application. Failure to do so may result in a determination that the applicant is not eligible for a hiring preference.

HIRING PREFERENCE ORDER:
1. AEFM / USEFM who is a preference-eligible U.S. Veteran*
2. AEFM / USEFM
3. FS on LWOP and CS with reemployment rights **

* IMPORTANT:  Applicants who claim status as a preference-eligible U.S. Veteran must submit a copy of their most recent DD-214 ("Certificate of Release or Discharge from Active Duty"), Letter from Veterans' Affairs which indicates the present existence of a service-connected disability dated within the past six months, equivalent documentation, or certification.  A "certification" is any written document from the armed forces that certifies the service member is expected to be discharged or released from active duty service in the armed forces under honorable conditions within 120 days after the certification is submitted by the applicant. The certification letter should be on letterhead of the appropriate military branch of the service and contain (1) the military service dates including the expected discharge or release date; and (2) the character of service.  Acceptable documentation must be submitted in order for the preference to be given.

** This level of preference applies to all Foreign Service employees on LWOP and CS with re-employment rights back to their agency or bureau.

For more information (i.e., what is an EFM, USEFM, AEFM, MOH, etc.?) and for additional employment considerations, please visit the following link.

DEI Statement

The US Mission to Dar es Salaam, Tanzania values a workforce of different backgrounds, cultures, and viewpoints.  We strive to create a welcoming environment for all and we invite applicants from diverse backgrounds to apply.
How to Apply
How to Apply:

To apply for this position, applicants MUST apply electronically via ERA.For more information, visit this link https://tz.usembassy.gov/embassy/jobs/

Required Documents:

To qualify based on education, you MUST submit the requested degree and / or transcripts as verification of educational requirement by the closing date of this announcement. Failure to provide requested information, or the information is insufficient to verify eligibility, may result in disqualification for this position.All Applicants:

Proof of Citizenship (Voter ID, NIDA, Passport)

Other Document 2 (if any)

Copy of work permit if not TZ national

Eligible Family Member Applicants:
• Copy of Sponsor's Orders/Assignment Notification (or equivalent)
• Passport copy
• DD-214 – Member Copy 4, Letter from Veterans' Affairs, or other supporting documentation (if applicable)
• SF-50 (if applicable)

Next Steps:

Applicants who are invited to take a language or skills test, or who are selected for an interview will be contacted only via email.Thank you for your application and your interest in working at the U.S. Mission in Tanzania.
The deadline for submitting the application is 23 March 2023.